Kangaroo steaks

Scott-Free's blog
Steve & Chris
Wed 23 Dec 2015 22:03
Wednesday 23rd December 2015
With Nick back from his trip to Tassie, it was time to think about doing some provisioning for Christmas. So we set off on the bus to Woolworths in Neutral Bay, and got a taxi back. None of us was keen to carry bags of shopping down the 109 steps, so we had the taxi driver drop us off at the boat ramp in Tunks Park, and called the marina for a water taxi back to the boat. This is an excellent service provided free by the marina, during normal working hours, and within minutes Johnno had brought the launch alongside and we piled in with our load.
All stocked up for Christmas.
Steve had spotted some kangaroo steaks at the meat counter, and was curious to see what they would be like, so at supper time they went on the barbecue.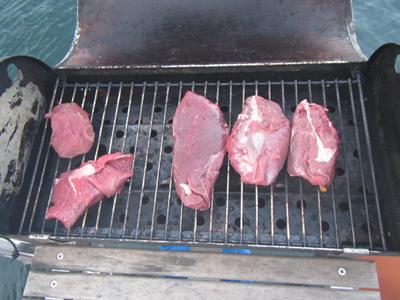 Kangaroo steaks - very dark red meat.
This was not the most successful meal. The meat was very tough and chewy, and had a strong flavour which I did not like. When I had tried it in Newcastle, it had seemed ok – but clearly it had been cooked by an Aussie who knew what he was doing! No disrespect to Steve, he is an excellent barbecue chef, and we later learnt that there is an art to both choosing the cut and cooking kangaroo meat. Not sure we'll be bothering to find out what that is!
---