A historic interlude

Scott-Free's blog
Steve & Chris
Sun 13 Nov 2011 21:11
Sunday 13th November 2011
Having arrived in Norfolk and the beginning of the trip south back down the ICW, the next step was to wait a couple of days for Anne & Michael to arrive on Nimue and for Kenny to arrive on Loon. Anne & Michael had been ready to leave Herrington harbour at the weekend, but as is often the case, at the last minute they found a problem with their generator's water separator. The good news was that they could get a new one fitted on the way down at Deltaville, but not until Wednesday. This meant that they would not be with us until Thursday or Friday. Unfortunately, Kenny had had a family bereavement and would be flying home rather than joining us, but hopefully would catch up with us later.
This meant that we would be here for about a week. Greta kindly took some laundry to do for us, and Gary ran us to the local West Marine and supermarket. We fitted the third battery charger controller and now have our fingers crossed it will continue to work rather than pack up after a week. We bought a new wifi aerial as the old one was extremely temperamental, and the new one works very well.
Nimue eventually arrived on Friday just as the light disappeared, having had a rather lumpy ride in 25-30 knots of wind. We were soon discussing our plans for the weekend over a glass of wine. We had rented a car for three days at a very good price, and decided we would visit the 'Historic Triangle' of Jamestown, Williamsburg and Yorktown on Saturday and then decide if we wanted to return on Sunday.
In the event, we visited Williamsburg and Yorktown on Saturday, and went back to Yorktown and then on to Jamestown on Sunday. By chance we had chosen the weekend of Veterans' Day to do our visits, and this meant that many of the sites we visited were free. Jamestown is where the first English colonists settled in 1607, establishing the colony of Virginia; Williamsburg later became the capital of the colony of Virginia; Yorktown is the site of the siege where Lord Cornwallis surrendered to the joint French and American armies in 1781 leading to the eventual independence of America from Britain.
Actors recreate street scene in Williamsburg The Colonial American Flag flies above the Capitol at Williamsburg
The victory statue at Yorktown Yorktown Main Street
Cannon shot embedded in the wall of a Yorktown house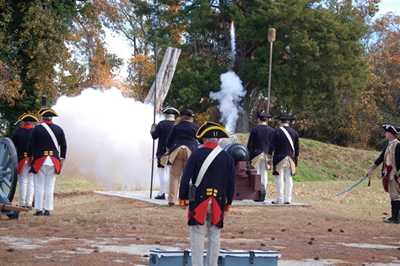 A light British cannon is fired and compared to a French/American siege cannon
As well as enjoying the historical aspect of the weekend, we also enjoyed the wonderful colours of the Virginian autumn. The weather was sunny and warm and as we drove along the Colonial Parkway from the York River across to the James River we couldn't help but marvel at the beauty of the natural environment.
---