Hanamoenoa Bay, Tahuata

Scott-Free's blog
Steve & Chris
Fri 7 Jun 2013 01:08
09:54.508S 139:06.233W
Friday 7th June 2013
Distance run: 12 nmiles
We stayed another day in Hanamenu Bay, but it was a wet, blowy, miserable day, and we were glad to lift the anchors and leave on Wednesday morning for the 12 nmile trip to the island of Tahuata, which lies just south of Hiva Oa. The anchorage in Hananoenoa Bay was quite crowded when we arrived, but we were relieved to see that all the boats were swinging on one anchor. We edged our way in and dropped the anchor in water so clear that we could see the bottom 7 metres down. This is our first clear water anchorage in French Polynesia and we were not about to waste it, so, cossies on and in the water in no time at all. We were able to snorkel over the anchor to check it was well set - it was - and then to enjoy our first swim in light blue water. What a treat!
Light blue, clear, clean water - what a treat!
There was a light swell running into the anchorage and it was rolly from time to time if the boat turned side on to it, but otherwise it was very comfortable, and we enjoyed our afternoon and evening in this first taste of the paradise we were expecting but which had so far eluded us.
During the night, however, a big unpleasant swell started to come into the anchorage and gave us quite an uncomfortable night. We thought it was too good to be true! With the light, boats started to leave, and by the time the torrential rain had stopped and the swell died down, the anchorage was half empty. We decided to wait and see how it would settle down, as the sun was beginning to shine and the swell much less now. It was a good call, as by lunchtime the weather had cleared and the swell returned to the gentle low one we had when we arrived.
That was yesterday, and today we have woken to a beautiful sunny day and calm sea. Rod helped us to unwrap the anchor chain from the rocks we had unwittingly draped it over during the lumpy night, and we moved to a new spot. I have baked bread and done some laundry and Steve is in the water cleaning the hull of the rather obstinate black stuff that we picked up on the crossing and which has proved quite difficult to get off. If these conditions hold, we could be here some time.....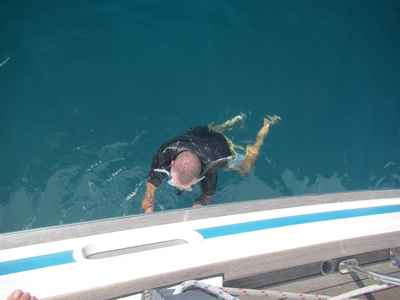 Steve scrubbing the muck off the waterline.
---