Port Arthur (2)

Scott-Free's blog
Steve & Chris
Fri 12 Feb 2016 23:30
Friday 12th February 2016
We arrived at Port Arthur in time for our trip over to Point Puer. Separated from the main prison by a short stretch of water, Point Puer became the site for a separate boys' prison, the first British-built reforming institution for criminal boys. It was initiated by Lt-Governor Arthur in 1834 with the objective of making constructive colonial citizens out of transported teenagers – indeed many children were younger, some as young as 9 years old.
By separating them from adult criminals and providing them with education, trade training and religious instruction, it was hoped that they would grow into law-abiding colonial citizens who could earn a living and leave old criminal habits behind. Over 3000 boys were sentenced to go to the Boys' Prison at Point Puer between 1834 and 1849 with mixed results, but many did indeed go on to use the skills learnt at Point Puer to make an honest living.
Looking out to the Point Puer peninsula, to the right of the Isle of the Dead.
The Penitentiary building is visible through the trees from Point Puer.
There are very few remains of buildings at Point Puer.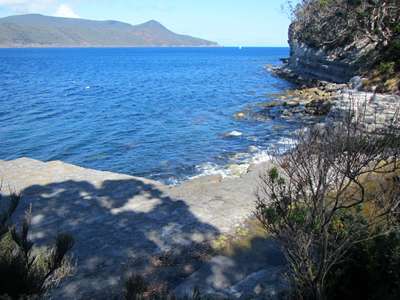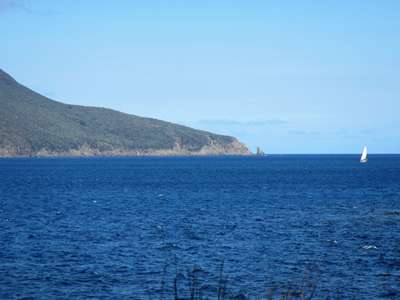 Boys would fish from these rocks on the farther shore and watch for ships arriving from the sea on their way to the prison.
After the tour and back at the main site we had time for a wander around the Dockyard, where some of the biggest ships in the colony were built and launched. Opened in 1834, the dockyard mainly built and repaired ships for the government, though some privately owned vessels were also repaired. A variety of vessels, including barques, brigs, schooners, cutters and whaleboats were built by the workforce of 80 adult convicts and boys from Point Puer.
Entrance to the Dockyard. Master Shipwright's cottage.
This sculpture stands on one of the old slipways. Lime-kiln.
The dockyard was separated from the main prison to prevent convicts from having contact with 'free' sailors.
Steve had a bit of a shock as we were leaving the dockyard. He paid a visit to a toilet, and as he opened the door to step back out, he came face to face with a snake that was not at all happy to have been disturbed. Steve didn't wait around to apologise, in fact I've never seen him move so fast! Luckily it didn't strike, and once his heart rate had calmed down a bit he took his camera back to within a safe distance and got a shot of it.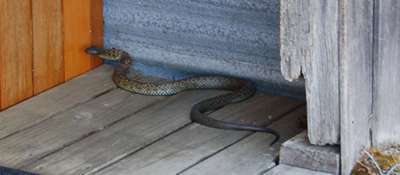 The snake was resting in the porch area outside the toilet door, and was not keen on having company!
We think it was a tiger snake, highly venomous, and Steve had a lucky escape. Its venom possesses potent neurotoxins, coagulants, haemolysins and myotoxins. Yikes! Given that we were not out in a remote area of bush, however, we suspect antivenom would have been available in time, but to avoid further frights we think we will stick to using rather less remote public conveniences in the future!
We telephoned Reception and reported the snake straight away – imagine if it had bitten someone later and we had not told anyone about it. Presumably they have someone who can safely remove it to a more appropriate place!
Later, we enjoyed a very nice meal in the on-site restaurant, before joining the ghost tour. There were no ghosts of course, but it was fun to explore some of the buildings by torchlight and listen to the not-so-scary tales made up by the guide for our entertainment.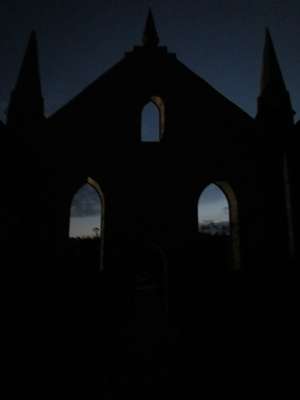 Inside the roofless chapel as the sky darkened. Down some dark tunnels by torchlight. No ghosts of course.
---