Narawntapu NP

Scott-Free's blog
Steve & Chris
Thu 4 Feb 2016 22:21
Thursday 4th February 2016
Our next port of call was Beaconsfield, where we had two items on our list – the dump station, and the gold mine. We found the former in the sports ground and swiftly did the necessary with the toilet cassette, and then drove five minutes to the Beaconsfield Mine and Heritage Centre.
Gold was first discovered in Beaconsfield in 1847, but it was not until 30 years later that enough gold was found to make mining it worthwhile. It was mined there until just 5 years ago when it became financially unviable. Now the shafts have been closed, but the site has become a museum and visitor centre. We spent an hour wandering around the site and watching footage of the news coverage of the rescue of two miners after a rock fall in 2006. They were trapped 950 metres below ground for two weeks. In the exhibit, there is a reconstruction of the space in which the two men were trapped, and it is hard to imagine how you would stay sane during such an ordeal.
Old shaft buildings. Modern shaft with tripod design headframe.
After a bite of lunch we left Beaconsfield behind and drove south to Exeter, where we turned right along the road that would take us to Devonport on the north coast. As yet we had no idea where we would stop for the night, we would just see where we got to. As we drove through Glengarry, we saw signs for a bush maze, and thought this might be a bit of fun, so we turned off to find it.
Although it was getting quite late in the afternoon, we were greeted warmly and sent off with instructions to ring the bell when we got to the middle. They promised they wouldn't leave us in there all night if we didn't find it, but would come seek us out before they closed.
Steve had a theory that you should always turn the same way, either left or right, every time there was a choice, so we gave it a go.
It wasn't quite that simple, but we eventually made it to the middle and rang the bells.
Finding the exit was harder than finding the middle! From steps at the exit – the white gazebo at the centre can just be seen.
This maze actually proved much harder as you had to follow the planks in colour sequence.
We gave up.
We spent the best part of an hour happily playing a variety of maze games, and as we were leaving, a chance remark to the nice lady in reception led to a recommendation for a good place to stay tonight. Just half an hour's drive further along the road we turned off onto Bakers Beach Road and headed into the Narawntapu National Park. The road took us along the east side of Port Sorell, and we stopped at the Ranger station and Visitor Centre just short of the north coast of Tasmania.
It was closed, but the tariffs were displayed, and there was a supply of envelopes into which you put your fee and deposited it in the box. It was $13 for a site, or $17 if you wanted to hook up to electricity. We drove on and found a powered site, tucked away in the bushes, and had to be careful not to run over the pademelons – smaller versions of wallabies – grazing on the site. We could not believe our luck. It was virtually empty apart from ourselves and the wildlife, and we were so glad we had decided to stop for a silly break at the maze or we might never have known about it.
These chaps are pademelons, marsupials about half the size of wallabies. They seemed unfazed by our presence, and continued grazing.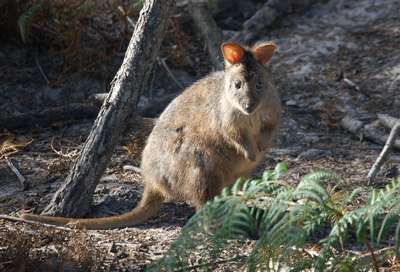 A board near the visitor centre gave details of some short walks, and as it was a lovely evening we decided to follow the track to Springlawn lagoon and bird hide. What a great way to top off a very full day. We saw and heard Bennett's wallabies thumping away as we approached them on the track, saw some rodent-like animals that ran rather than hopped – we think they may have been bandicoots – and saw and heard some small birds we could not identify. We heard one particular bird call when we were in the hide that sounded like a tom-tom drum. There must have been many such birds because the noise was quite deafening at times as they called and answered each other. There were black swans on the lagoon, and we were surprised to see pademelons in the water eating weed which they pulled up with their front paws.
A Bennett's wallaby grazing. Many of the trees around the lagoon were dead.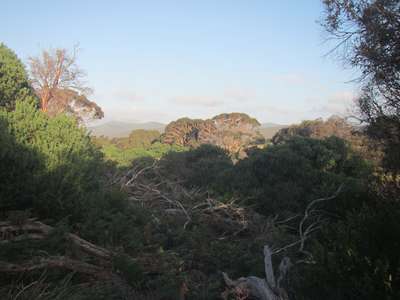 The sun began to sink in the sky as we walked back. Through a clearing to the hills beyond. Such beautiful parkland.
---