The morning after the morning after

Scott-Free's blog
Steve & Chris
Mon 6 Jun 2016 21:39
Monday 6th June 2016
This morning dawned much brighter than the last few days, with blue skies and even sunshine. We checked out of the motel and caught a bus back to the marina. After checking with Andrea from the office that our part of 'C' dock was still in place, we had breakfast before catching a ride with Clayton out to the boat. This was not quite as easy as yesterday, as boats that had been moved from their berths were now rafted three wide along the length of the fishermen and fuel docks, and space to bring the RIB alongside was limited. We scrambled across a couple of sport fishing boats to get in the RIB, and as we motored in calm water out to 'C' dock we could see more clearly the havoc wrought by the storm.
As feared, high water had brought yet more damage to the marina, but thankfully Scott-Free was still in her berth and unharmed.
The boardwalk had been further damaged in the seas last night, in some places bringing its foundations up with it.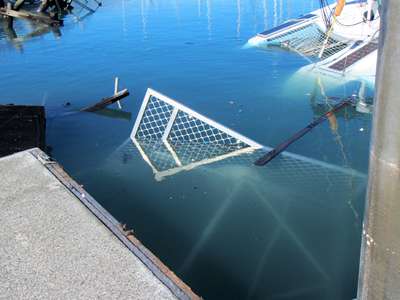 The security gate from 'C' dock. The trimaran had bounced on and off the main pontoon, breaking it.
The broken pontoons at the start of 'C' dock. Looking across to the damage at 'B' dock.
Damage to 'C' dock caused by the bouncing trimaran. The top of the breakwater nearby.
The swell had reduced in height overnight to the point where it was mostly just spray, and the water was now calm and still. Scott-Free was still safely tied in her berth, although the finger pontoon was now at a slightly jaunty angle and the wooden strut across the end had broken off. The concrete had big cracks in it, and one of the new cleats was loose and wobbly, but otherwise it was still holding us firm.
Once we were satisfied she was ok, we took our bags below and settled ourselves back onboard. The weather forecast is for light winds and mild weather for a couple of days, then a day of slightly stronger northerlies before the wind comes round to the west on Friday. We're told the harbour entrance between Muttonbird Island and the eastern breakwater is not yet navigable as the swell is still too high, so it looks as though we will have to stay a few days until we can leave. So we'll keep our fingers crossed the weather stays light until then, as what is left of the marina is in a sad way and won't stand up to much more battering.
---