Leaving Port Resolution

Scott-Free's blog
Steve & Chris
Mon 12 Oct 2015 12:17
Monday 12th October 2015
We waited over a week for the strong winds and seas to subside, and even now they are still more than we would usually choose to go out in. However, the wind is due to come round to north of east, and this could make conditions in the anchorage very uncomfortable and possibly untenable. We decided not to wait around any longer for an elusive break in the weather, and this morning lifted the anchor and set off for Noumea in New Caledonia.
As expected, the sea was very lumpy when we came out from the protection of the reef, and it was a slow, hard slog to get around the bottom of the island as we were motoring into the wind. Mount Yasur bade us farewell by sending plumes of smoke into the air as we passed. Mary took these shots as both boats bucked up and down in the swell:
Bows well up... and down.
Stern down... and up again.
There's that beach we didn't get to... and down we go again.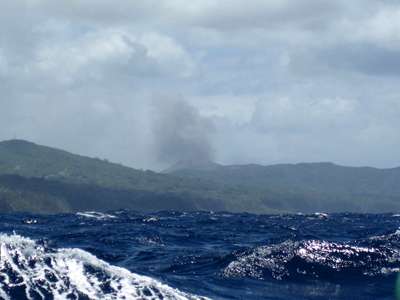 Mount Yasur sent up plumes of smoke as we left.
Hopefully the seas will ease off once we get away from the island.
---