Marina Cay, BVI

Scott-Free's blog
Steve & Chris
Mon 9 Apr 2012 22:08
68:27.62N 64:31.739W
Monday 9th April 2012
Distance run: 12 nmiles
Lifted the anchor mid-morning and had a cracking upwind sail with half a reef in the main and the yankee on flat seas in the Sir Francis Drake Channel south of Tortola. As we rounded Beef Island off the eastern end of Tortola the wind freed us up and we sailed almost all the way into the anchorage.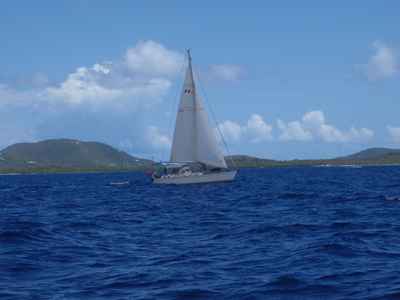 Serafina sailing alongside us off the southern coast of Tortola
It was quite breezy behind this little cay and anchoring space was limited, so we opted to pick up a buoy in the lee of the little island. We went ashore in the rib to pay for the buoy ($25 per night) and to have a browse in the Pusser's Store. Sarah and I both had our eyes on a neat little t-shirt dress in a tasteful shade of pastel green (not the same one obviously as I am twice the size of sarah!), ideal to slip on over a bathing costume when approaching an anchorage. We both tried one on, and Sarah obviously looked much better in hers than I did in mine as she bought hers and mine went back on the rack! Just as well really as it's embarrassing enough going out with Rob & Steve wearing matching kit, imagine what we would look like if Sarah & I started to wear matching outfits too!!
We also checked out the happy hour deal at the bar and the restaurant, but were not very impressed with either, so decided to happy hour and eat on one of the boats instead. We decided we would hire a car the following day and have a drive around Tortola, so Sarah got on the phone and within 5 minutes had rented a car for pick-up at the airport at Beef Island at 0900 in the morning. The plan was to take the big boats across to Trellis Bay, an anchorage barely a nmile away on Tortola, and pick up buoys rather than anchor, as this would be the quickest way to get the boats settled and us to the airport.
---