Culebra

Scott-Free's blog
Steve & Chris
Sun 1 Apr 2012 21:34
18:18.331N 65:17.995W
Sunday 1st April 2012
Distance run: 25 nmiles
Up at 0530 and anchor up at 0600 and heading out of the bay. We motorsailed eastwards along the south coast of Vieques in fairly light winds. As we rounded the south-eastern tip of the island and changed course for Culebra, the wind freed us up and we had the most glorious sail with a reefed main, the yankee and 12- 15 knots of wind from just forward of the beam. The sea was calm, the nasty squall clouds we have been plagued by for ages were gone and the sky was a beautiful blue. Oh, how we have missed this!
Rounding the south-eastern tip of Vieques on a beautiful day.
We arrived at the entrance channel to Ensenada Honda soon after 1000 and were sailing so nicely we were tempted to sail in, but decided it was a little too narrow. So we furled the yankee and headed into the bay via the channel, and then off to port to anchor off the little town of Dewey.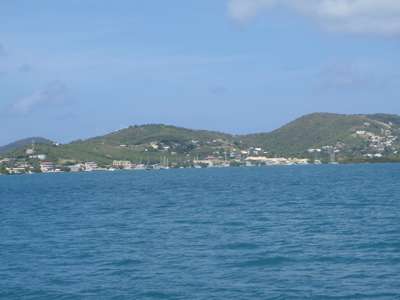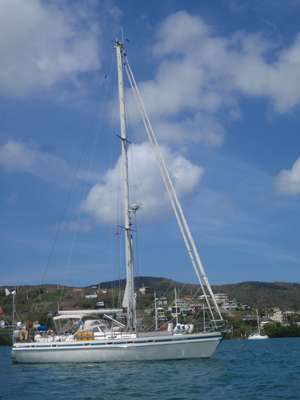 In Ensenada Honda, approaching the anchorage off Dewey. The old girl looking as classy as ever at anchor.
After a quick tidy up on deck, we lowered the rib and headed ashore to explore the little town. The brightly painted bridge that dominates the town was originally built to allow two fishing boats to pass through the cut, but as they are no longer there, the bridge never opens.
The bridge at Dewey from the road… and from the water.
There is only one fuel station in Dewey, and as it has to service both land-based and water-based vehicles, it can be approached by either!
Dewey's fuel station from the road… and from the water (we needed petrol for the rib.)
We took the rib under the bridge and along the cut to the seaward side of the town, and stopped for petrol at the gas station. We had a very tasty lunch of crab cakes at Mamacita's, a waterside restaurant, and found an incredibly well-stocked colmada (supermarket) just off the cut.
The bridge from the seaward end of the cut. Mamacita's where we enjoyed lunch.
We really liked this little town, and the anchorage had plenty of depth and room. If we were not on a time schedule to get the USVI to meet up with our old friends and sailing buddies Sarah and Rob from Serafina, we could have happily stayed a few days.
---