Back in Gib at last!

Scott-Free's blog
Steve & Chris
Sun 3 Aug 2008 19:41
We eventually made it back to Gibraltar yesterday, with an uneventful flight that was a pleasure marred only slightly by the three kids in the seats in front of us whose parents seem to have disowned them and left them to behave as badly as they liked. (Note to selves - do not book any flights in future during school holidays!)
The boat was as we left it - well apart from a thick layer of builder's dust and some scratches on the bows where she had obviously bumped into the pontoon. There were also some rather deep gouges in the wooden edge of the pontoon, so I think Scott-Free won that competition! One of our first jobs has been to wash her down and she is now squeaky clean again and looking her lovely self again. She's still a bit of a mess below where it looks like our bags have exploded, but that's on the list for tomorrow.
The weather here is very overcast and quite cool, which is nice because it will give us time to get used to the heat again!
We just about managed to get the house sorted and cleared, with help from the family. Lee very kindly borrowed the van from work twice to take some of the larger stuff away (thanks Lee!) - some of it to the house he and Kerrie are currently doing up to move into! We're glad that some of Ron's things will be used.
The sofa and table and chairs will do for a while until they can afford something a little more modern!
Lisa popped round one afternoon with the boys who enjoyed exploring a strange house and the overgrown garden...
and Kirstie and the kids came round for lunch amongst the boxes and piles of stuff.
Kirstie and MJ have just seen cake! Jake being musical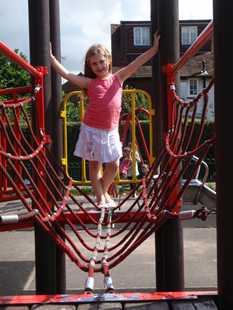 Maisie posing and Grandad being artistic with the new camera!
We went for a walk to the local park which turned out to be not quite so local, but the kids were really good and walked a long way. Jake did well for one with such little legs, although he did tell us many times he couldn't walk any further. MJ didn't complain once - she is really growing up now into a lovely girl - just like her Grandma!
We managed to get a really quick appointment with the Probate office so were able to get that done before leaving. It meant we had to go up to High Holborn rather than the local office, but that was a small price to pay. Travelling into town just served as a reminder of why we were keen to get back to the boat...
See what I mean?!
We will probably be in Gibraltar a few days while we sort out the boat and do some passage planning, then we'll be off round the corner and up the coast of Spain. More soon...
---