Missionary Bay, Cape Richards

Scott-Free's blog
Steve & Chris
Sun 11 Jun 2017 21:05
18:14.009S 146:12.531E
Sunday 11th June 2017
Distance run: 35 nm
After a rather lumpy and uncomfortable night, we lifted the anchor at 09:00 this morning and set our course for Cape Richards. Conditions were much the same as yesterday, and we decided to give the cruising chute another outing. The difference today, however, was that we were sailing off the coast of Hinchinbrook Island, which has a high and irregular coastline, and after a short while we began to get increased winds from the hills. Generally the trade winds blow from the south-east, but in their absence we were instead getting a light land breeze from the south-west. These were being accelerated by the hills on Hinchinbrook Island, and we decided that the cruising chute had to come down.
This proved to be an interesting task. The snubber only seemed to want to come down half-way before refusing to come any further, and then the wind would fill the remaining half of the sail and make it impossible to bring in. After a couple of attempts, the only thing for it was to release the foot and let the sail fly loose, so we cut the strop holding the foot down. Fortunately Steve was then able to pull the snubber down and we eventually got the sail on the deck. Phew! We're not sure what the problem was, so we'll need to get it out and investigate when we get to Cairns, but for now we've put it away.
We had been thinking about getting a sailmaker in Cairns to re-cut the cruising chute into a gennaker, as Bob and Sue seemed to be having a much easier time with theirs, but then it turned out they had problems unfurling theirs and couldn't use it either. So perhaps not.
The rest of the passage was uneventful and we motor-sailed a bit until the wind picked up enough to sail at a decent speed. We rounded Cape Richards around 14:30 and slowly picked our way to a spot with enough depth in Missionary Bay, where we dropped the anchor. We were surrounded by hills and with the low, dark clouds it was very atmospheric. Then the rain started. We battened down the hatches and hunkered down below in the warm and dry. So much for Tropical Queensland!
The hills on Hinchinbrook Island. A dark and broody sky.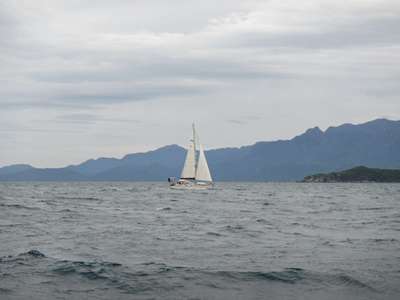 Passing Eva Island, off Cape Sandwich. Rounding Cape Richards with Mawari.
---