Walk around town

Scott-Free's blog
Steve & Chris
Wed 18 Nov 2015 22:38
Wednesday 18th November 2015
Today there were no rally activities to attend until the evening, and so we set off mid-morning for a wander around town.  Newcastle is Australia's second oldest city, chosen for an alternative  penal colony in the early 1800's to accommodate troublesome prisoners from Sydney, and then opened up for general settlement a few years later.  Today it is a mixture of old and new buildings as the town begins its regeneration after the decline of the heavy industries.  
Many of the buildings have an art deco flavour, built around the 1930's.
Not sure about the style or era of these two buildings.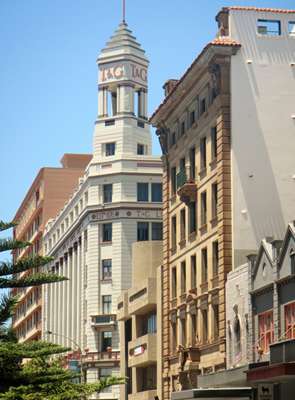 This older building was left standing alone.
A 1930's Junior school, now used as offices, with the Infant school building just next door.  The 'tree of knowledge' stands nearby.
I realised that I had taken no photos of the more modern buildings, which says something about my architectural preferences.  I will put that right next time we go for a stroll.  We wandered through town and came out at the beach on the opposite side.  There seem to always be lifeguards on duty here with a small clearly defined area in which to swim.  It appeared to be a popular place for office workers to spend their lunchtime.
A reminder of the town's history.                                                                             One of the beautiful beaches and coastline south.
We stopped for lunch at a very popular cafe and take-away  just a street back from the beach, where a constant stream of office workers came to buy enormous wraps full of salad for $8 – around £4.  Then we wandered back through town to the shopping centre where we intended to buy a loaf of bread, and ended up with a bicycle helmet and a new laptop!  The helmet is a necessity if we want to use the bike here – they are compulsory and one of the yachties here was stopped and fined for not wearing one shortly after we arrived.    The laptop was a daily special in Dick Smith, reduced to $550 – around £260 – and exactly what we have been trying to find for ages.  It's a small HP notebook to replace our old MSI notebook which no longer cuts the mustard.  It is slightly larger with an 11.6" screen, good for my aging eyesight, and is much slimmer and lighter with a touch screen.  I love it!
By the time we arrived back at the boat my poor old legs were screaming at me, but it had been a lovely day.  I just had time for a cuppa with my feet up before getting ready for the Official Welcome Cocktail Party.  This was a very pleasant occasion, with an open bar for beer, wine or champagne, with a constant stream of trays of canapés borne aloft by cheerful staff.  We had our first taste of kangaroo as one tray contained kangaroo and sweet potato tarts which were delicious, the kangaroo meat very reminiscent of beef.
Kangaroo and sweet potato tarts.
It was an excellent evening which continued with music and dancing.  Having walked a fair distance during the day (and downed a few glasses of bubbly during the evening), we were not really up to tripping the light fantastic, and so, earlier than we would have done a few years ago, we retired back to the boat for a cup of cocoa and bed.  Party poopers!
---