Mackay visit

Scott-Free's blog
Steve & Chris
Wed 6 Jul 2016 21:16
Wednesday 6th July 2016
A great few days with Rod & Mary in Mackay began with a bus and train trip to Brisbane Domestic airport where we boarded a Jetstar plane which deposited us safely at Mackay airport not much more than an hour later.
The Ozzie equivalent of Easyjet.
Rod and Mary were waiting for us at the marina, and we were soon settled on Sheer, catching up on news. Their plans have changed drastically in view of Mary's ongoing problems with her ticker, which goes into overdrive at odd intervals, making her feel rather unwell, not to mention a little scared! It started at sea on their last trip, but she didn't tell Rod about it until they had made an unscheduled stop at Mackay because of engine failure (which clearly did nothing to help matters!)
They have spent the last few weeks attending doctor and hospital appointments to try to find the cause, but the upshot is that they have now decided that their cruising days are pretty much numbered. Once Mary's heart problem has been identified and is under control they hope to sail to the Whitsundays for a last cruise and then will sail the boat south to find a broker and put her up for sale before heading home to Cape Town. Sad news indeed, and they were both feeling a bit down about the way things have turned out, although at the same time excited about returning to their new home in Cape Town.
Mary was up to some gentle walking, and so we spent our time strolling to the beach or relaxing onboard, smiling at the good times and shaking our heads at some of the not-so-good ones we have shared in the thousands of nautical miles sailed together. A few drinks were imbibed, piles of fresh prawns consumed and as always, very good company enjoyed.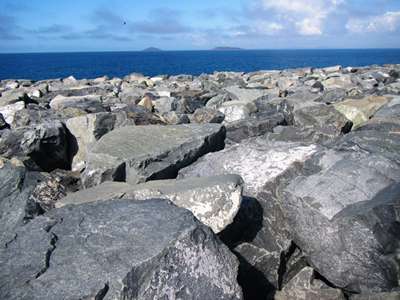 The breakwater at Mackay makes the one at Coffs Harbour look tiny and fragile. We walked to the end and enjoyed the view out to the islands.
Looking back at the marina, which is some way out of town.
Very sturdy ramps from pontoons to land. Very tall piles!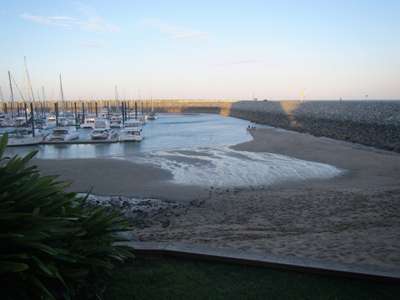 Mackay marina from the beach. At low tide the height of the breakwater becomes obvious.
Our first encounter with a sign warning of crocodiles, on the beach at Mackay.
A prawn "pig-out" (Rod's words!) about to begin! The two Skippers swinging the lamp.
The two Admirals know who is really in charge...
Rod arranged to hire one of the marina cars for a day and drove us out to Eungella National Park.
The view from the lookout.
Turtles basking on a log. A pair of kookaburras.
We spent some time watching a platypus skimming along the surface of the water, only occasionally diving down for food. Unfortunately we didn't have the big camera with us, so no record, but it was an absolute pleasure to watch.
Too soon it was time to pack our bags and head back to the airport for the flight back to Brisbane. Rod and Mary assured us they would not be leaving Oz until Mary's health was better, and we arranged to see each other again on the Gold Coast when they are making their way down the coast later in the season.
As we leave, Rod and Mary pose in warm and sunny Mackay... a couple of hours and 1,000 kms later, I shiver at the bus stop!
---