Comings and goings in Port Louis

Scott-Free's blog
Steve & Chris
Thu 21 Jun 2012 17:16
Thursday 21st June 2012
The two weeks since James left have just flown by here in Port Louis Marina in St Georges. The weather has been hot and mostly sunny, though with the start of the rainy season we have seen some cloudy spells and rain most days. Usually we get all the hatches closed just in time for the shower to end, and then we go round opening them all up again! Then it gets all steamy hot and the decks are dry in no time.
We have been doing jobs on the boat, one of which is airing out of lockers. In this climate, clothes tend to get musty and even mouldy if not allowed to air out every so often. So some days the boat has looked like a Chinese laundry!
The cockpit full of clothes airing in the breeze.
We have had several people on board to do jobs – engine servicing, wood varnishing, teak deck repairs and gelcoat repairs. And we are working our way through our own joblist. Once we have the boat back to ourselves (the varnishing is almost done) we will get out the sewing machine and start on the canvas projects while we have the correct flavour of electricity to run it.
Des has now flown back to the UK for a couple of months, but before he went we took him and his friends out for a short sail to Happy Hill for lunch and a swim/snorkel/beach visit. Des looked very at home on the boat.
Relaxing in the cockpit….. ….and Captain Des at the helm.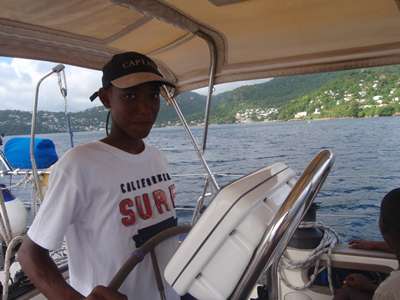 Jonty was an excellent helmsman and all-round crewman… …and Jade was enthusiastic – if maybe a tad overly so!
Unfortunately Lyndra was not feeling 100% and had to pass on the barbecued prawns and tandoori chicken for lunch, but otherwise a good time was had by all.
The day before he flew out, Des took us out to lunch and we had our first Chinese meal for a long time. It seems a bit daft going all the way to the Caribbean for a Chinese, but it's surprising what you don't realise you've missed till you have it again! What we know we will miss, however, is Des's smiling face and cheerful voice – he chats away to everybody as if he's known them for years, and then when we ask him who they are he says he doesn't know!! Actually, that's pretty typical of all the Grenadians we've met – they are very friendly people.
Our Swiss friends Marco & Rachel on Habibi are also in the marina, and we enjoyed an evening and dinner on board their lovely Island Packet (the only one we have ever seen with a dark blue hull), as well as numerous happy hours up at the bar.
Hjalmar and Britt-Marie arrived on Flying Penguin on Monday, bringing with them the replacement cockpit light which eventually arrived (from Fiji) at the postal service address in St Martin just a day or two before they left. It had taken about 10 weeks to get there – what did they use – a carrier pigeon?! We invited them on board for dinner and it was good to catch up on their news. They have left today for Trinidad where the boat is due to be hauled out – tomorrow! They fly back to Sweden on the 27th so they don't have a lot of time to lay the boat up before they leave.
This evening we are joining a group of yachties who are going by mini-bus to Secret Harbour Marina around on the south coast for an evening of music and barbecued chicken and chips. It is the first time we have been out of the marina in the evening for a while, so we are really looking forward to it.
---