Western Cuba

Scott-Free's blog
Steve & Chris
Fri 20 Jan 2012 01:28
Together with Brian & Sandy from Moonshadow Star and Michael & Anne from Nimue, we decided to explore further afield, and whilst waiting for a 6-seater car to become available at the car rental place (apparently CubaCar only had one such vehicle!) we booked two old American cars with drivers to take us west to the tobacco-growing area of Pinar del Rio and Vinales. This turned out to be a real experience as we bumped along a pot-holed concrete road which was the main Autopista, passing only a handful of other cars along the 100-mile route, several horse-drawn carts and quite a few individuals holding out slabs of cheese or hands of bananas who stood directly in the path of the car in the hope it would stop! Our drivers were two very personable young men who spoke less English than we did Spanish, but somehow we managed to understand each other and they were very polite and attentive guides.
Our guides Robin & Miguel with their 50-year-old cars. Fortunately both cars had younger engines, which they proudly opened the bonnets to show us!
The valley of Vinales, with limestone outcrops called 'mogotes'. L-R: Sandy, Brian, Us, Anne, Michael.
We visited a tobacco farm and the farmer showed us inside the drying shed, and demonstrated rolling cigars. Anne was uncharacteristically forward in suggesting that he should take off his trousers and roll the cigars on his thighs!
The drying shed and tobacco plants which grow well in the rich red soil. Rolling cigars from the dried leaves.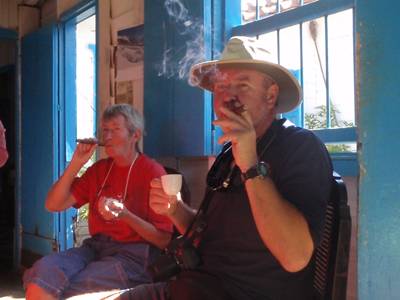 Steve & Sandy sampled the goods over a coffee. I preferred a rocking chair on the porch in the fresh air.
After the tobacco farm we stopped at a few other sights on our way to lunch, which was at a private house that had turned a couple of rooms into a restaurant.
The history of evolution, painted 1959-62 by Leovigildo Gonzalez. Cuevo del Indio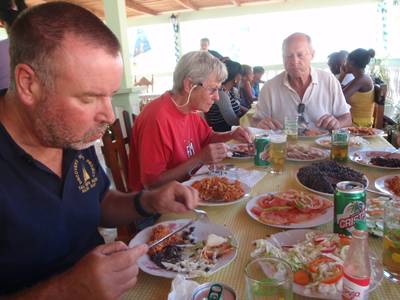 Lunch in house/restaurant.
It was a long day and very tiring, mainly because of the state of the roads (not to mention the suspension on the cars!) but also very enjoyable and it was good to see a rural aspect of Cuba.

---