Overnight to South Lingga

Scott-Free's blog
Steve & Chris
Tue 10 Oct 2017 13:20
0:16.639S 104:58.7E
Tuesday 10th October 2017
Distance run: 123 nm
We left Parai Beach mid-morning yesterday, picking our way between the fishing platforms.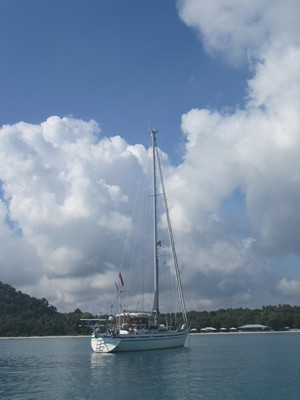 The old girl sitting quietly at anchor at Bangka. As Mawari passes a fishing platform she gives an idea of its size.
As the clouds in the above photos predict, it was another wild and wet trip as they gathered and built into dark storm clouds and then released their contents over us. We got the full works – thunder, lightening, rain, wind – and it didn't hurry to pass over us.
It was still horrible as we approached the South Lingga anchorage and as we began our entry we realised this was not going to be a very sheltered spot in the current conditions. Just then we got a radio call from one of the rally boats which was leaving a bay around on the north side of the headland. They suggested it would be more sheltered round there where they had spent the night, so we did a U-turn and headed around the corner where it was indeed very much calmer.
There was plenty of room opposite a beach, with not a soul or village in sight, so we dropped the anchor and kept our fingers crossed the weather would settle down a bit.
---