An active day in the Abel Tasman National Park

Scott-Free's blog
Steve & Chris
Sun 9 Feb 2014 22:42
Sunday 9th February

Sea kayaking and walking in the Abel Tasman National Park:
Boarded the small high speed cat at Kaiteriteri (as there are limited roads in the park most transport whether hiking or kayaking is by water - they even run to a timetable so you can plan your linear walks) and had a pleasant guided trip to the company's kayaking base at Torrent Bay. We were then given our double kayaks and a comprehensive safety briefing and were soon paddling across the bay. Steve had not been in a kayak for 45 years and Chris and never been in one! We were soon in our stride and navigating our way around coral heads - all that experience in the Pacific was not wasted!

A pleasant little bay was selected for a brief lunch break and then we paddled off around an island looking for seals. By now the afternoon wind had picked up, so we rafted together and "hoisted" a crude square sail on two paddles! Despite its crudeness we were soon nipping along at a fair lick. Once back at the base, rather than get a boat back we opted for a two hour walk around to another bay and a later boat back. Quite an exhausting but enjoyable day that was rounded off by a soak in the campsite's spa bath.


Midlands Beach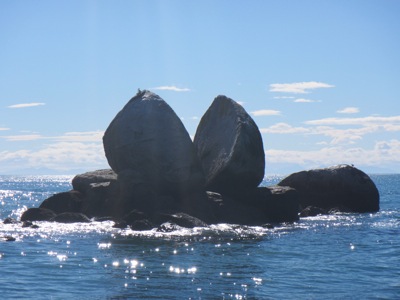 Split apple rock



Sailing back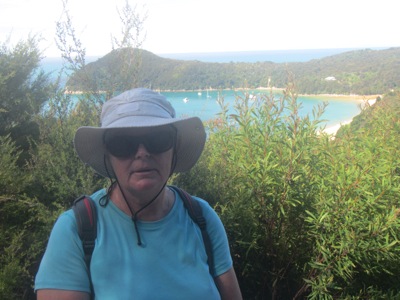 Anchorage Bay

Sent from my iPad
---