South Island - Week 6

Scott-Free's blog
Steve & Chris
Wed 12 Mar 2014 19:19
Sunday 9th March 2014
We stayed in Hanmer Springs this morning long enough to play 18 holes of crazy golf, then we were back on the road again, headed for Kaikoura on the east coast. The weather was not very pleasant, so we went straight to the camp and checked in. When the rain eased off a little later we went for a drive up the coast to Ohau Stream, a spot where fur seal cubs leave the sea and go upstream to play by a waterfall. There were no seal cubs there today, but the waterfall was pretty.
Back in Kaikoura we had a wander around the small town and then went to book our whale watching trip for the following morning.
Monday 10th March
Had a great trip out on a whale-watching cruise. High speed cat took us out at 25 knots to the area known to be frequented by a male sperm whale. He had been seen earlier that day, and he is known to surface every 40-50 minutes to breathe, when he stays on the surface for 10 minutes or so. After stopping a couple of times for the skipper to listen out with his hydrophone for noises made by the whale, we sped off and stopped alongside him. He was only on the surface for a few minutes before diving though, and then the whole operation was repeated in an effort to find him again as the crew did not believe he had dived right down.
Sure enough, about fifteen minutes later, he was spotted by a light aeroplane not far from us and we headed off to take a closer look. This time he stayed on the surface a bit longer and we were able to get a good look.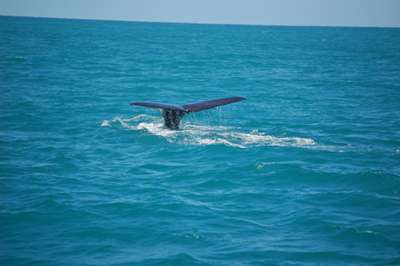 Back on land we enjoyed an excellent seafood chowder at the Whaleway Station,and then set off for Blenheim. We arrived at the camp having decided to pitch the tent for a couple of days, paid for two nights at Reception, and as usual were directed to the tent sites. We could not believe its location – it was indeed beside a burbling stream, but they had neglected to mention that it was also practically underneath the main road bridge into town, and next to a railway bridge! The camp was otherwise very nice, so we decided to give it a try for a night to see how it went.
Tuesday 11th March
We actually slept very well, considering it sounded like lorries were going to join us inside the tent when they rumbled over the bridge.
We visited the Omaka Aviation Heritage Centre's "Knights of the Sky" exhibition, which features many WW1 flying machines from Sir Peter Jackson's personal collection together with memorabilia from that era. The pilot below, Kiwi 'Grid' Caldwell was abandoning his plane which was spiralling out of control after a mid-air crash. But when he stepped out onto the wing to jump off, he found the plane stabilised, so he flew it half standing on the wing and half in the cockpit, back over the lines and jumped off just before it crash landed. He was one of the few pilots to survive the war.
I was happy to wander looking at the displays for an hour, but Steve wanted to do the guided tour. I knew it was a mistake two minutes after the chap started talking – God was he boring! Anyway, the upshot was that I ended up in the cafe with a flat white and a muffin (again!) and waited for Steve to emerge.
I made good use of the time to phone the ferry company and changed our ferry booking to the next day. We had completed our land circumnavigation of the South Island, and although it would have been lovely to stay till the following Tuesday, Cyclone Lusi was forecast to arrive in New Zealand by the weekend. Although it was likely to be downgraded to a tropical storm by then, I did not want to be in the Cook Strait when it arrived, or shortly after. The weather forecast for the next day was very good, with little wind and benign seas, and there was space on the afternoon crossing which was ideal because it gave us plenty of time to get the tent down and drive to Picton.
Wednesday 12th March
Fortunately the rain held off for most of the night which meant the tent was practically dry in the morning, so we packed up and made it to Picton in good time to catch the ferry. The crossing was smooth and pleasant, but we were sad to be waving goodbye to the South Island. We had a wonderful time touring round such a beautiful island with its stunning scenery - it has definitely been one of the highlights of our entire trip.
---