Sydney Opera House

Scott-Free's blog
Steve & Chris
Fri 18 Dec 2015 21:10
Seeing this Sydney icon as we rounded Bradley's Head was one of the best 'Wow' moments of our entire trip. Exploring it on land has been a further highlight. We now have photos of it from just about every angle (don't panic, they're not all on the blog!) and we took the tour to see inside and learn more about it too. The Souvenir book says:
"In 1957, Danish architect Jorn Utzon beat 232 other entries in an international competition to create a performing arts centre in the glittering amphitheatre of Sydney Harbour. The groundbreaking design took 14 years, 10,000 workers, 1,056,006 roof tiles, a wildly blown-out budget and the resignation of Utzon himself before it was finally realised in 1973." (Sydney Opera House)
The smaller hall, to the left, is the Joan Sutherland Theatre. The larger hall, to the right, is the Concert Hall.
The smaller hall was previously called the Opera Theatre, but was re-named in 2012 in a tribute to the legendary Australian soprano known as 'La Stupenda'.
The larger hall, the Concert Hall seats 2,679 and has the world's largest mechanical action organ, with 10,154 pipes. The smallest building houses a restaurant, and there are several smaller performance venues below the Concert Hall.
The whole complex sits on Benelong Point, between Sydney Cove and Farm Cove, and became a UNESCO World Heritage Site in 2007.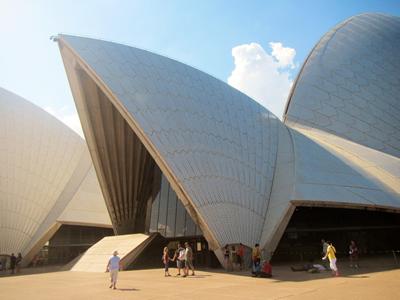 The roof is covered with a mixture of white and cream glazed ceramic self-cleaning tiles.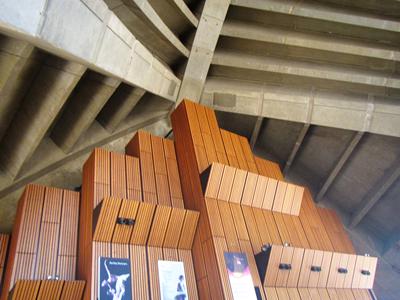 The halls have been built inside the pre-cast concrete sails above.
The glass sections are part of the construction, supported by metal girders and poles with joints to absorb movement.
The Opera House at night. A souvenir of our tour of the Sydney Opera House.
I'm not sure I could use the word 'beautiful' to describe the Opera House, but it is certainly distinctive and pleasing to the eye. As sailors, how could we not find those 'sails' attractive?
We now look forward to enjoying a performance there in the near future.
---