What a Liberty!

Scott-Free's blog
Steve & Chris
Thu 14 Jul 2011 00:12
We slipped the mooring buoy around midday to catch the tide up into New York Harbour and then through the East River and Hell Gate to Long Island Sound, where we would base the boat in Port Washington while we visited New York City.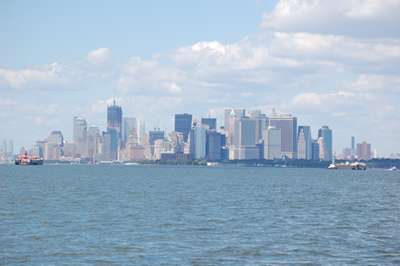 Approaching the Verrazano suspension bridge which spans the Narrows into New York Harbour - and once through, the famous Manhattan skyline.
Liberty and the Staten Island Ferry. Steve concentrating on avoiding the heavy traffic around the famous statue.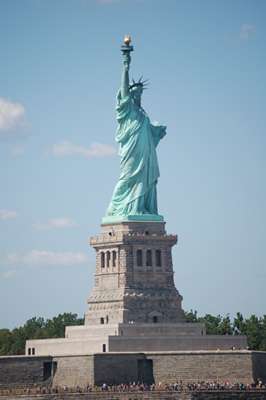 We were able to sail very close by for a perfect view.... then turned up the East River and passed under Brooklyn Bridge.
The Empire State Building from the East River. Passing through Hell Gate with bubbling water.
Having timed our arrival at the Battery just right (we hoped!) we began to make our way up the East River and were pleased to find that we had a good couple of knots of fair tide. This is important when passing through Hell Gate, where the tide can run up to 5 knots and if against you can make it very hard and uncomfortable going! The river runs, not surprisingly from its name, along the East side of Manhattan Island and comes out in Long Island Sound. Once in the Sound we sailed around to Port Washington on the North shore of Long Island, and picked up a free town buoy, right next to Anne & Michael on Nimue and a couple of buoys away from Kevin on Amakura..
The evening was spent cracking open the bottle of bubbly given to us by Rob & Sarah from Serafina for when we sailed by Liberty (plus a bottle of wine or two...), and catching up on news from our sailing friends. We have a great feeling of achievement, having sailed our own boat into New York and are now looking forward to visiting the city.
---