Bridgetown, Barbados

Scott-Free's blog
Steve & Chris
Sat 8 Jan 2011 00:47
13:05.412N 59:36.764W
Friday 7th December 2011
The last 36 hours of the passage were the best sailing we'd had the whole trip. The wind direction and speed were spot on and we stonked along with reefed sails, eating up the miles. Another bonus was no dark clouds to rain on us - instead some rather interesting and attractive formations which reflected the light of the sun.
No rain in this one!
Barbados appeared unspectacularly as a low light on the horizon in the early hours of the morning, and with daylight became a low grey lump, hardly worthy of a photo, but boy was it good to see!
Look hard - it's that grey lump on the horizon!!
As we rounded the Northern tip of the island the wind picked up and the sea became decidedly lumpier, just as we needed to take the pole down in order to turn to port. So we donned lifejackets and out we went onto the deck. Fortunately it came down with no problems so rather than tie it temporarily on deck we stowed it properly on the front of the mast to make one less job later when we arrive.
We arrived at Port St Charles around 1030 and tied up to a concrete quay designed for super yachts, so not quite ideal, but it just felt so good to be here. Serafina had arrived an hour before us and was tied up next door. First job was to check in with immigration, health, customs - this has to be done before anyone but the skipper can leave the boat. That done, the yellow Q flag can be taken down and we are free to leave the boat. Celebrations ensued with Rob and Sarah joining us for bacon butties and bubbly, and both bottles were soon empty. The rest of the afternoon was spent sleeping it off at the same time as catching up on 16 nights of 3-hourly watches. Later we had our first swim for a long time and made use of the yacht club facilities to shower.
Tied up in the megayacht berth - dwarfed by a megayacht... ...and opposite Serafina.
Sarah had invited us to dine on Serafina in the evening but had taken poorly during the afternoon and had taken to her bed, so Rob joined us for supper instead. This morning she wasn't feeling any better, but they decided to move down to Bridgetown as planned, as it is only about 12 miles down the coast. Port St Charles was a good stop for checking in, charging batteries and refuelling, but far too expensive to stay for more than one night!
Bob, a fellow sailor from Marmaris, arrived at the boat with some post that he had kindly agreed could be sent to his address in Barbados. It had arrived this morning with perfect timing. He kindly invited us for a barbecue and we are looking forward to taking him up on the offer. We made use of the facilities for a dip and a shower once more before leaving just after lunch after refuelling.
Lounging around the pool.
We had a cracking sail down the coast in 10-15 knots of wind and a flat calm sea. Wonderful. This is what we signed up for!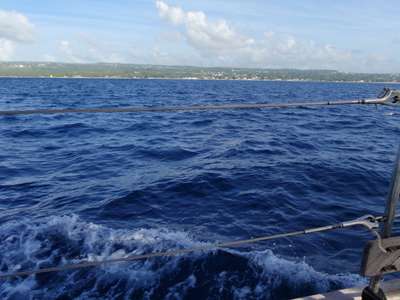 Sailing down the west coast of Barbados in flat seas. No autohelm on here - she was so well-balanced she steered herself!
We arrived in Carlisle Bay, Bridgetown in late afternoon and dropped the hook fairly close in where we hoped not to roll as much as we could see other boats doing! It is calm and quiet now, and we look forward to some time relaxing and exploring the island.
---