Christmas Day

Scott-Free's blog
Steve & Chris
Fri 25 Dec 2015 23:28
Friday 25th December 2015
A quiet day at home was what we planned for this Christmas, and it did not disappoint. We don't usually have a present-opening session because we don't usually bother with presents, and this year was no different. However, our good friends Pete and Mary had given Nick a present to bring out to us, and we were surprised and touched to unwrap these two very appropriate drinks coasters. Thank you Pete & Mary, a lovely thought, and we will try them out in just a little while!
After a late breakfast we went ashore to the boat ramp and went for a walk in Tunk's Park. The first part of the park is a recreation ground with a cricket oval, but once past these it became a very pleasant walk through woodland and alongside a stream.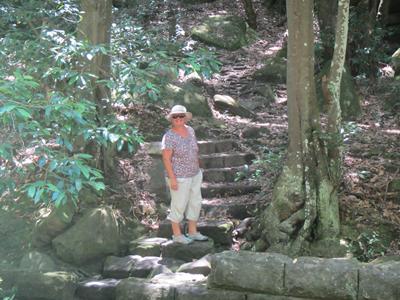 We followed the stream for a while, and then as the path started to become a little steeper, we decided it was time to return to the boat and begin preparing our Christmas dinner. We had looked for turkey (though admittedly not very hard!) and found only legs which did not appeal, but had found instead a very reasonably priced leg of lamb which definitely did appeal to all three of us, and that now needed to go in the oven. So we left Nick to wander on, with instructions to give us a call when he wanted picking up in the dinghy (he didn't seem too keen on a Christmas Day swim...) and we set off back to the boat.
Garlic & rosemary going into the leg of lamb.
Time for a drink of Buck's Fizz while the dinner's cooking. Happy Christmas!
Ready for carving, so Skipper, now dressed for the occasion, does the honours.
All ready to tuck in.
Complete with mint sauce – yum!
The rest of the day was spent in the traditional manner...
Cheers! Zzzzzzzzzzzzzzzzzzzzzzzzzzzzzzzzzzzzzzzzzzzz
---