White water rafting on the Upper Navua River

Scott-Free's blog
Steve & Chris
Fri 14 Aug 2015 22:07
Friday 14th August 2015
We were collected from our resort at 6.45 a.m. and taken to the Rivers Fiji base, just 5 minutes down the road. When everyone else had arrived, we set off in a 4WD coach for the hour's drive up into the hills. After half an hour we stopped for some juice and banana cake, and while we were off the coach, Moses, the trip leader, sorted us into groups of four for the rafts and told us our guide's name. We were to be with Bear & Pepe, and Bati, our guide, would later look none too impressed at the old fogeys he would be steering down the river!
Then we were on our bumpy way again. The road up through the hills was a logging road, unmade and very steep in places. The driver made good and frequent use of the 4WD – there was only one point when I thought we might have to get out and push.
When we arrived at the top, we were given buoyancy aids, helmets and paddles and then sent off on a 20-minute hike along a steep and slippery path to the river's edge, where our guides awaited us. After a safety briefing, we were introduced to the guides who invited us to get into the rafts, and then we were off on a 15km ride downstream.
The logging road took us high up in the hills. Arriving at the start point, ready for a safety briefing.
A 5-minute safety briefing... ...and we were off.
Bati, our guide, gives us the thumbs up. We passed countless waterfalls, many of which we showered under!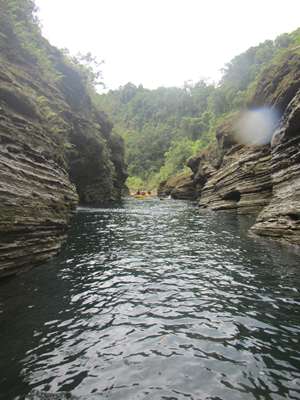 Sometimes it looked as if we were going downhill... ...and sometimes uphill !!
Sometimes wet... ...and sometimes dry.
Bati lost an oar as we went through one of the rapids, and had to jump in to get it back. Ok then. Now we were drifting along without our oarsman. Was this a problem? Well, given that we spend part of most days in an inflatable dinghy going from one place to another, not really. We simply paddled over to the rocks and held the raft there until Bati swam back with his oar. With him safely back on board (looking less than pleased with himself!) we set off again.
As we came close to the bank coming through this rapid... ...Bati lost his right hand oar.
Forward paddle, forward, forward... stop.
We stopped at a small waterfall on the left bank where there was an area of flat rocks and sand, and the guides set up a couple of tables and laid them with fresh rolls and a variety of fillings. Help yourself, they said. And having worked up an enormous appetite, and breakfast having been such a long time ago, we did!
Lunchtime stop... ...a quick paddle before we're off again. Toby, photographer, behind.
Wet again... ...and again...
...and again... ...and again...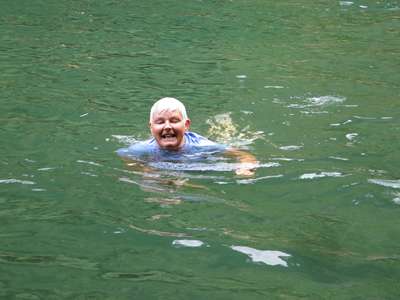 ...and again... ...and again.
We paddled through some fantastic scenery, had enormous fun riding the rapids (only Grade II-III, Grandma stuff) and got absolutely soaked so many times, not just from the rapids and the waterfalls, but also from the oars and paddles of other rafts...
Too soon, we were at the end of the journey, and we had to stop paddling, haul out the raft and deflate it.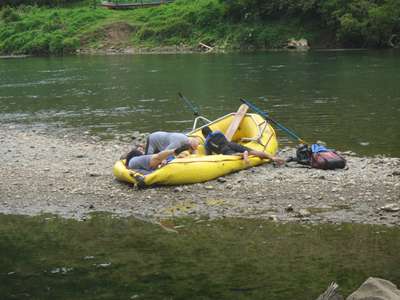 High five – Bula! Gotta get the air out somehow!
Fold it... ...and roll it.
The stopping point was at a small village where they had constructed a hut for changing rooms, and it was wonderful to get out of our wet gear and into dry. Juice and cookies awaited us before we all piled back on the bus ready for the bumpy journey back. I think it fair to say the old fogeys had not only kept up well with their younger counterparts, but had worked so well as a team that we outshone them. Youth doesn't always have the edge over age and experience, even in physical pursuits such as this. And we were not the only ones asleep on the bus back either!
A fantastic day, such great fun amid beautiful landscapes (or should that be riverscapes?) Well done Skipper, definitely one of your best ideas.
---