Isla San Cristobal, Galapagos

Scott-Free's blog
Steve & Chris
Wed 3 Apr 2013 17:10
00:53.738S 89:36.754W
Wednesday 3rd April 2013
Distance run so far: 829 nmiles
Distance run day 7: 81 nmiles
Total distance run: 920 nmiles
We've had such a good, fast passage that we could have arrived 6 and a half days after leaving Las Perlas. As this would have meant arriving in the dark, however, we slowed down to arrive at first light. As it turned out this made for an unforgettable arrival in the Galapagos Islands. On Monday evening the wind died for a few hours, and with time to spare we simply allowed ourselves to drift on almost glassy seas. As we were enjoying the peace and calm, there came the sound of splashing, and for as far as the eye could see there were dolphins leaping right out of the water, high into the air, and whacking the water with their tail fins as they re-entered the water. It was a fantastic spectacle and closely followed by a beautiful sunset.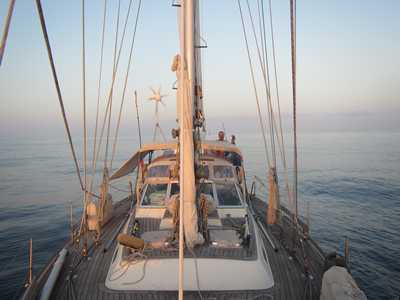 Flat, calm seas and no wind – or dolphins! Too hard to catch on film. Just drifting along….
The sun just sitting on the horizon…. ….and almost below it.
Eventually we put on the engine and chugged our way around the top of the island, and in the morning we were treated to a fantastic sunrise, followed by jumping fish, seals and small black and white seabirds sitting on the surface and apparently feeding just below, which we later found were auks, not native to Galapagos, so just passing through.
The sky lightening as we head down the coast of San Cristobal. Sunrise.
We arrived in Wreck Bay, Chatham, officially Puerto Baquerizo Moreno, San Cristobal, the most easterly of the Galapagos Islands around 0800 yesterday morning. We spent the day tidying up the boat, catching up on sleep and planning our time here. Our agent arrived at the boat at 1900 and took our papers, saying he will be back with the appropriate officials this morning to check us in. It is now midday and he has not arrived yet, but we know he has five other boats to check in and is doing the rounds. Once we are officially checked in, we will head ashore. We need to use a water taxi as the seals use dinghies ashore to sleep in. In fact, there are a couple sleeping on the stern platform of the boat next to us. For once we are glad we have a straight transom with boarding ladder – hopefully they can't manage those!
---