Sunrise Uluru base walk (2)

Scott-Free's blog
Steve & Chris
Wed 21 Dec 2016 23:22
Saturday 17th December 2016
We continued to watch the changing hues of the rock as the sun rose higher and we walked to our first stop, where the coach was waiting to pick up anyone who didn't want to complete the walk. After a quick head-count we were sent on our way and the path then began to skirt along the bottom of the rock so we could now get up close and personal. As we walked along we came across areas where no photography was allowed because of the significance of that particular area to the indigenous people.
Irrespective of where anybody stands on the argument over the way Europeans, and particularly of course the British, settled this land, we have personally always respected the customs, traditions and religions of the people in places we have visited, and this was no different. So we did not take photos in these places, and nor would we have tried to climb the rock if it had not been closed due to the intense heat, as the Aboriginal traditional owners of the land, Anangu, specifically request visitors not to climb. Apparently 20% of visitors still do and a chain remains in place to aid them in doing so.
These are just some of the photos we did take on the way round the base. It is interesting to see the strata at differing angles in different places. The rock was pushed upwards 300-400 million years ago and tilted over at almost 90 degrees, so that much of the strata are vertical.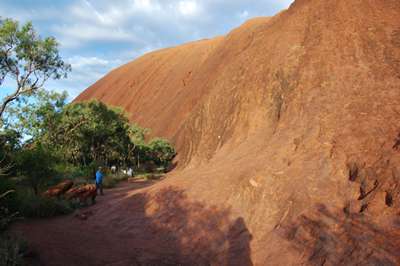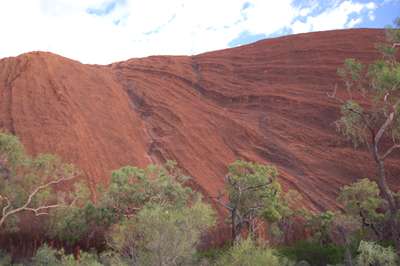 Sacred some of it may be, but I just had to touch a non-sacred bit! Cracking and crumbling – wonder how long this took to happen?
Mutitjulu waterhole, home of Wanampi who, according to the Aboriginal people, controls the flow of water. Evidently taking the day off today.
Mutitjulu cave – a family cave where Anangu families camped.
Rock art inside the family cave – the grey colour is the true colour of the rock, which has not oxidised to the bright red of the external rock.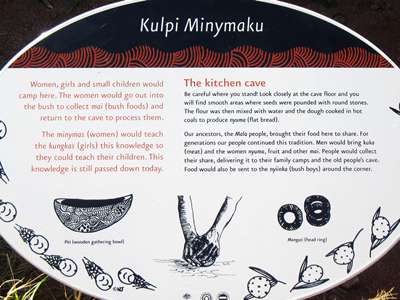 The kitchen cave – Kulpi Minymaku
Kantju Gorge
A choice of tracks around Uluru. We so enjoyed the 10km base walk it felt
only half that length.
What a fantastic experience to be close enough to this iconic monolith to touch it. Awesome and unforgettable.
We were back on the coach by mid-morning and making our way back to camp where we had an early lunch of enormous burgers and salad. Very welcome it was too, as breakfast seemed a long time ago. After the exertions of the morning, all we had to do for the next 3-4 hours or so was to sit back and enjoy the scenery as we headed off to the Petermann Ranges and Kings Canyon, some 300km away by road (although only a third of that by crow.)
Google shows the topography and the route to Kings Canyon.
---