Rivers and hills

Scott-Free's blog
Steve & Chris
Thu 17 Feb 2011 15:54
Thursday 17th February 2011
We were met on the way into Prince Rupert Bay by Martin of 'Providence', one of the small boats providing yacht services, colloquially known as a 'boat boy'. He welcomed us to the bay and told us a little about the island, and asked did we want to do any tours inland. We arranged for a trip up the Indian River the next morning, so he picked us up at 0800 and the first interesting sight we saw along the shoreline as we headed towards the mouth of the river was a series of rusty hulks washed up in hurricanes,which were just left abandoned - one in particular is right across the mouth of the river. Martin explained that there is no public money to have them removed, so there they will stay.
A rusty hulk across the mouth of the Indian River.
The trip up the river was delightful.No outboard motors are allowed so Martin rowed us up and back, pointing out plants, birds and crabs along the way. The buttress roots on some of the trees had grown in quite amazing patterns..
Buttress roots
Coconut palms self-seeding Martin told us the name of this bird but I can't remember...
The following day we did a bus trip inland and saw some of the northern part of the island. It is a much less developed island than its neighbours and is mountainous, so the roads are steep and wndy and the bus had difficulty at times making it up the hills. We drove through rainforest and visited Joe who lives on the top of a cliff in a little shack in the shade of two huge mango trees and grows a bit of everything on his little patch of land. We ate juicy grapefruit - so much sweeter than those back in the UK - and bought mangoes and papaya he picked off the trees, ginger root he pulled out from under a pile of dried grass, and sweet potatoes and yams. After lunch of stewed chicken in a local restaurant - very good food at excellent prices - we visited Red Rock and swam in a river mouth where the sea came crashing in but was swept out again by the fresh water flowing out.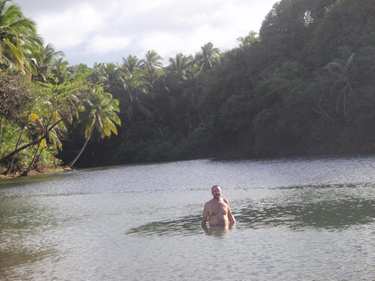 Red Rock A swim in fresh water
The view from a hilltop over to Douglas Bay (right) and Prince Rupert Bay (middle).
It was a tiring but a very enjoyable day, during which we began to get an idea of what this island is like. We will definitely come back to see more.
Today we are having a quiet day on board, before moving on tomorrow to Les Saintes where we are joining a get-together with other CruisingAssociation members on Monday.
---