Cradle Mountain

Scott-Free's blog
Steve & Chris
Sat 6 Feb 2016 22:15
Saturday 6th February 2016
From Stanley, we headed south, away from the coast, towards Cradle Mountain, our next stop. As usual, the roads were virtually empty so it was hassle-free driving through winding country roads, passing through little towns or villages along the way.
Someone with a sense of humour trimmed this hedge! Still strange to come across place, or river, names from home.
Around mid-afternoon we started to get our first glimpses of Cradle Mountain, and as we got closer we pulled over to get a good view.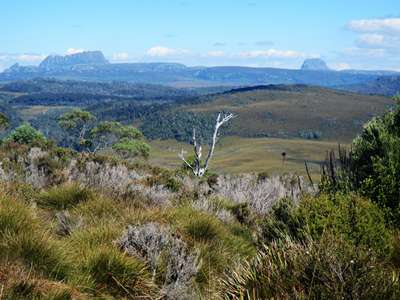 The comb-like peaks of Cradle Mountain on the left. At this point we were 930 metres above sea level.
Not long after, we passed the entrance to the campsite and drove a few yards further to the Visitors' Centre to have a look around and pick up some walk leaflets and bus tickets. Private vehicles are discouraged from driving the narrow road any further than the Ranger and Interpretation station a couple of kilometres further along, and a shuttle bus service is provided which has four stops for beginning/ending walks. We already had our National Parks pass, so didn't need to buy one, but we did need to show the pass to be issued with bus tickets.
Having done this, and with the van parked safely in the huge car park, we decided to make best use of what was left of the afternoon by taking an exploratory trip on the bus which was just about to leave. We had thought just to stay on the bus and come straight back, but as we rounded the bend and pulled into the bus stop at Dove Lake the view of the mountain was so stunning it made me catch my breath. And we couldn't even see the lake from here, so we got off to take a better look.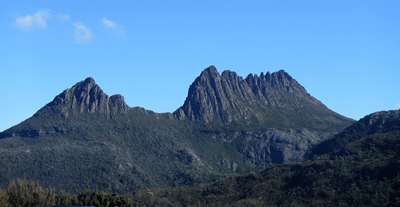 Our first close up view of Cradle Mountain from the Dove Lake bus stop.
We walked the short distance down to the lake where the views across the water were stunning.
Wonderful views across the lake.
We stayed a while soaking up the views, then set off back to the bus stop. In the shelter were information boards and registers where you sign up to say where you are walking and check in when you get back. By now we felt we had enough information and would make a decision on tomorrow's walking over supper tonight. We took the bus back to pick up the van and drove across the road to the campsite to check in. When we booked we were told there were no powered sites left, but when we checked in they said one had become available, so we parked up and plugged in and settled ourselves in for our only two-night stop of the trip. Over sundowners we looked at the walks information and decided our route for tomorrow, then dinner and bed, excited about tomorrow's adventures.
---