Kemer

Scott-Free's blog
Steve & Chris
Thu 20 May 2010 19:47
Slipped lines at 06:30 and as there was no wind we motored across the bay. At least that was the plan. Scott-Free's engine had other ideas though and three miles out of the marina it stopped. After an hour of drifting around watching the rest of the fleet pass by, we eventually got it going again (the blockage this time was in the pipe taking the diesel from the tank to the filter and it took a blast from the fender pump to blow it clear!) and off we went.The wind picked up and became quite strong, 30knots plus at times, but as it was from behind it meant we were doing a fairly comfortable 7+ knots over the ground with a boat speed reading 10.5 knots as we surfed down the waves.
We made good time to Kemer and then had to wait 2 hours outside the marina until we were called in. Eventually we were tied up though and sipping very well-earned gin and tonics.
The next day Pete and Mary went off to take the cable car up Tahtahli mountain and we cleaned out the fuel filters yet again!
In the evening we had a super meal at the nearby hotel, sitting at tables overlooking the beach and the sea.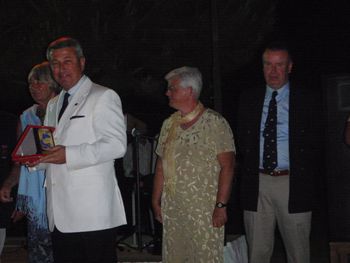 Dinner overlooking the sea Green group leaders presenting marina manager with EMYR plaque
---