Banda Neira ashore

Scott-Free's blog
Steve & Chris
Sat 29 Jul 2017 22:06
Sunday 30th July 2017
After a quick tidy-up of the boat, we dropped the dinghy and paddled across to the steps. Very convenient, we didn't even need to put the outboard engine on. We went first to the Information Centre and handed in five copies of the requested paperwork, and collected some information about the town and tours. Then we went for a wander around the town. The Banda Islands are a tourist destination, being the original Spice Islands, and two ferries arrive here in Banda Neira regularly bringing passengers from Ambon. There are three hotels here, and a dozen or more restaurants/cafes in a lively little town centre.
The Maulana Hotel is hosting the Sail2Indonesia Rally. They have set up an Information Centre by the steps ashore.
Rally boats moored Med-style to the wall. The dormant volcano across the water from the boats.
The "big ferry" arrives and just about makes its turn to go alongside the commercial dock, just along the wall from the rally boats. Phew!
A typical shopfront. Smart housefront.
The local market. Need a new propeller? This shop has loads...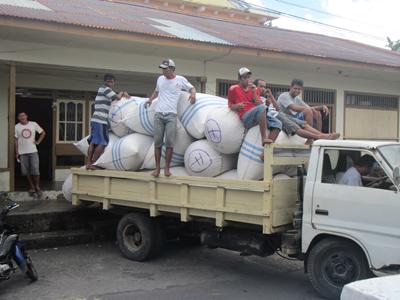 Buckets with home-made handles. Uh-oh, all loaded up, and now it won't start!
The town had a nice feel to it, and we were greeted everywhere by smiling faces and calls of "Hello", from children and adults alike. We were glad we had come early, and were definitely in no hurry to leave!
---