Wilson's Promontory

Scott-Free's blog
Steve & Chris
Mon 25 Jan 2016 22:52
Monday 25th January 2016
It was about an hour's drive to Tidal River on Wilson's Prom as the locals call it. We called into the Visitors' Information Centre first to collect information sheets on the walks, and then set off over the footbridge and out to Pillar Point lookout.
Our first close-up sighting of a wallaby, grazing beside the road on Wilson's Prom.
Views from the road leading to Tidal River.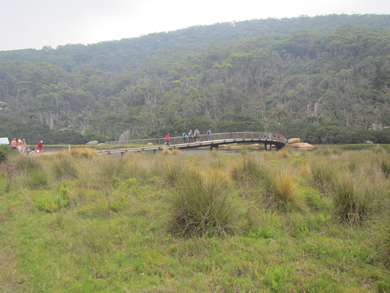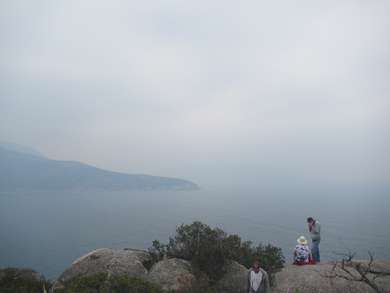 Pillar Point Lookout.
Visibility was very poor, and a conversation with a lady who visits Wilson's Prom most years gave us the reason – smoke from bush fires on Tasmania and the islands in Bass Strait. She had never seen it so hazy, and suggested we come back another day if we really wanted to see some spectacular views. Oh well, just our bad luck we happen to have chosen today. We lingered a while at the lookout - it was still a lovely spot in spite of the smoke – and then set off to retrace our steps two-thirds of the way back to where the path divided and took the path towards Tidal River Overlook. This was quite steep in places, but not too bad, and we could see Tidal River Bay on one side and Squeaky Beach on the other.
Views over Squeaky Beach.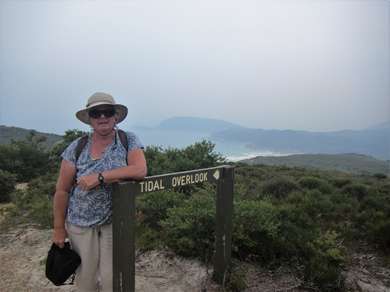 We stopped for our picnic lunch at the 'Quiet place' near the lookout which did have spectacular views. It is a place dedicated to Rangers and others who have lost their lives in the line of duty.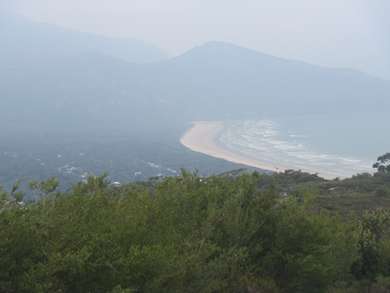 The quiet place is dedicated to those who have lost their lives making protected areas safe for others to enjoy. It overlooks Tidal River.
We then continued our way round to pick up the third track which would take us back to our starting point at the bridge.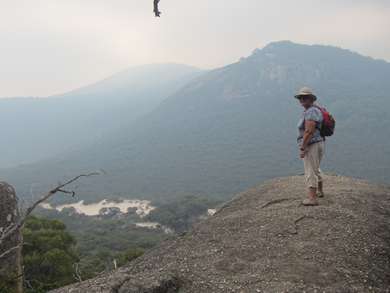 Not too close to the edge... I am bottom left of this photo to give the rock scale.
The effects of Cinnamon Fungus on these plants is tragic. Walkers are asked to make sure their boots are clean when leaving to prevent spread.
On the path back down to the river below.
A wombat burrow? Again I am in the photo for scale!
Back at the car park we dropped off our bags and went for an ice-cream to cool us down. Next stop was Squeaky beach, where we discovered for ourselves how the beach got its name. Shoes off, each step made a squeaky noise. We wandered along the beach for a while, but out in the open the direct sun soon became too much for me and I made my way to some rocks to seek some shade.
Squeaky beach.
With a couple of hours' drive still to Pam's, we left the beach and started to make our way north. We arrived at her place in the early evening to a very warm welcome, a bowl of spaghetti Bolognese and a comfy seat in front of the telly for the Australian Open. Wonderful.
---