Moana-i-Cake village, Fulaga

Scott-Free's blog
Steve & Chris
Fri 17 Jul 2015 18:32
Friday 17th July 2015
We went ashore bright and early this morning leaving the dinghy at anchor off the beach as we set off along the footpath over the hill to the main village of Fulaga, Moana-i-Cake.  There are three villages on the island, but this is where the number one Chief lives and therefore where we needed to do our sevusevu to obtain permission to stay.  It took about twenty minutes to reach the village, stopping for a chat with a villager we met on the way, and as we stopped at the edge of the village to take off our hats we were met by another villager who welcomed us, chatted for a few minutes, and then pointed out another chap who would take us to the Chief.
The path to the village from the boat landing.                                    All dressed up to see the Chief.
Sokei was on his way to chop some firewood, but said he was happy to take us to the Chief, and after sevusevu would show us around the village and introduce us to our host families who would look after us during our stay.  He was dressed in his work clothes of t-shirt and shorts, but popped into his house along the way to collect a sulu which he wrapped around his waist as we walked.
When we arrived at the Chief's house, we took off our shoes and went inside.  We were greeted "Bula, vinaka" by the Chief, and gestured to sit on the mat facing him.  Men sit cross-legged with their knees covered (hence the sulu) and ladies sit with knees together and feet to one side.  It is a mark of disrespect to show the Chief the soles of one's feet!
Sokei placed our gifts of kava on the floor in front of Chief Daniel, and spoke to him at length in Fijian.  He then explained to us that he had introduced us to the Chief and asked his permission for us to anchor, swim, fish, use the beaches and come into and move freely in the village.  Chief Daniel then spoke at some length in Fijian, which Sokei translated for us as his acceptance of us into the village and permission to stay and anchor anywhere in the lagoon.  He pointed out a couple of taboo places for fishing, but otherwise we could do as we pleased as long as we respected their home and environment.
Steve shakes hands with Chief Daniel after sevusevu.                     The Chief is happy to have his photo taken (though it may not look it!)
The ceremony over, out came the black book in which to record our details and payment of our FJ$50 contribution to the village funds.  Some cruisers get very cross about being charged to anchor, but we don't have a problem with it here in Fiji.  The owners of the land also own the rights of use of the surrounding waters, including the fishing rights, so it's a bit like paying rent.  If someone pitched a tent in our back garden and expected to stay there for free, we might not be too keen!  FJ$50 is about £15, and it's a one-off payment per boat which goes into the village's coffers.  No problem.
There was no offer of kava drinking, which was fine by us, and after a photo shoot we thanked Chief Daniel and headed out with Sokei for a walk around the village.  The houses are mainly made from corrugated metal sheets over wooden frames, with steep roofs and one rounded end.  The rounded end has three or more doors into it and seems to be the living area, and the square end has windows and appears to be the sleeping quarters, although some houses had beds in the living area too.  A smaller building beside the house appears to be the kitchen, although we also saw primus stoves inside the houses, and an even smaller one the toilet.  It is quite a large village with over fifty houses, edged on one side by the beach, and on the other by hills.  Pathways have been worn by constant use  – there are no vehicles and no roads.
Fresh water comes from rain, which is caught in rudimentary guttering from the steep roof of each house and collected in a water butt – either an older concrete one or a newer plastic one.  There is a village reservoir, also fed by rainwater, which can be used when personal supplies run low.  Each house has a solar panel installed by the Fiji government, a battery and an inverter to turn the 12v power into 240v to power lighting.  Some of the houses have television, but there is not enough power to run fridges or freezers.  This means that food cannot be stored for very long, and fish, which is the main source of animal protein, is caught and eaten fresh. There are chickens and some pigs in the village – it was not clear if they were communally owned.  According to Tara, eggs are a treat as the hens have grown wise to having them stolen from their nests and are laying them in difficult-to-find places.
The solar power system costs each household FJ$18 per month, and this means that each household must find a way to earn some currency to pay the bill.  The main source of income for the villagers is the sale of woodcarvings which are sent to the main island on the monthly cargo boat for sale to tourists.  This cargo boat is the only way that both goods and people can arrive at or leave the island of Fulaga.   The villagers depend on it for staples such as flour, as wheat cannot be grown on the island.  Mainly, though, the people eat what can be grown or grows naturally around them and what can be caught in the sea.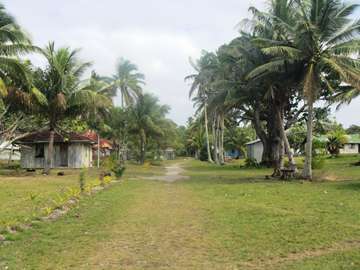 Houses with rounded ends and steep roofs.                                        One of the main pathways through the village.
Houses have neat, well-kept gardens.                                                    Well-kept and tidy, with hills behind.
The village reservoir, all freshwater comes from rain.                      The nursing station – nearest doctor several islands away.
The Post Office, with one of two phones in village.                           The village church. All the villagers are Methodists.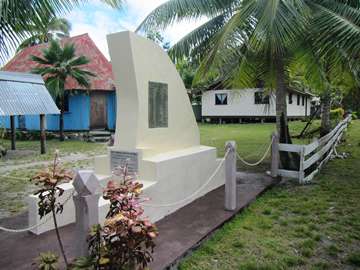 The Minister's house (right) – the most modern and smartest in the village.
One of the wood-carving workshops.                                                     Pandanus grass – used for mat weaving – drying in the sun.
Sokei shows us a fish-smoker...                                                                 and an earth oven that uses hot stones.
A buoy is used to channel rainwater round a corner to a water butt, the household's source of fresh water.
After our tour, Sokei took us to the home of our host family, where we met Tara and her 2-year old grandson, Joshua.  She welcomed us to Fulaga and asked us about our travels.  Tara speaks excellent English and we enjoyed a long chat over a cup of tea and a slice of sultana bread. She told us about the village and her life here, and invited us to join them for church on Sunday and lunch with them after.  We were happy to accept her invitation, and looked forward to meeting Joe, her husband, who was then out fishing.  Sokei had shown us a house where they were making roti for lunch and selling them for FJ$1 each, and so Tara took us to get some lunch.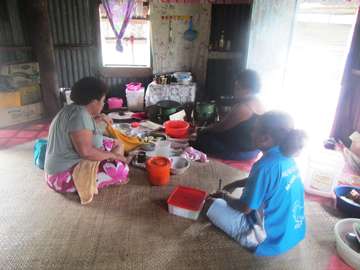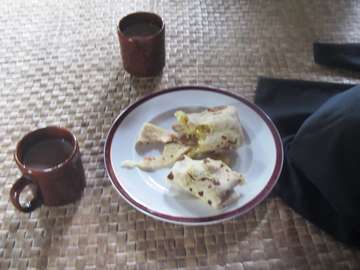 Some of the village ladies making roti.                                                   Roti and hot chocolate – very tasty!
Joshua tucked into his roti with enthusiasm.       Ah, butter wouldn't melt...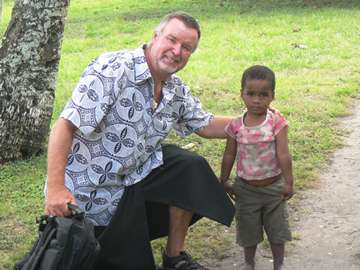 Tara takes us for a walk through the village.                                       Joshua is not sure about us just yet...
Full of roti, we wandered back along the path to Tara's house, which is almost the last one before you leave the village, and bade her farewell until Sunday.  Tomorrow we have some boat repairs to attend to.
---