Spring update

Scott-Free's blog
Steve & Chris
Sun 5 Apr 2009 11:10
Spring is here - but we are told it was the worst winter for 20+ years. November was wonderful and on days when the sun shone, the sky was a clear blue and the wind was blowing just right for a sail, how we wished we hadn't sent the sails to the loft and dismantled the engine! But with the beginning of December came the wind and rain, and it was pretty relentless right through till now. Ok, not every day, but enough that everyone was pretty fed up with it. We bought some wellie boots for walking around the marina, it was so wet.
So our visit back to the UK in January brought some light relief from the rain - in the form of snow! We were not used to the cold!
Pretty! Pretty cold!
We had lots of family and friends to catch up with and only two weeks to do it so it was a bit hectic.
Monopoly with Lisa and the boys Ice-creams(!) with M-J and Jake in Brighton
Luxury accommodation on Lord Amory for the DSP AGM A "glass" of beer in Smith & Western with Kerrie, Lee & Smithy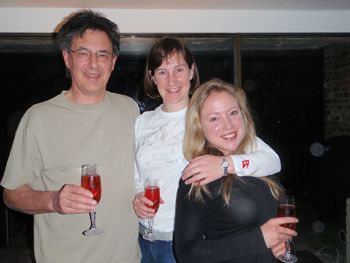 The folk at t'mill. Home-cooked Sunday roast with family - lovely!
Bowling and pizza with the boys - attractive pose Tom! James and a cheesey grin
Ryan and another cheesey grin Ahh, bless. Included this just to annoy Kerrie!
Of course we also had to fit in a visit to the London BoatShow - which we did - twice! Once to do business and once to meet up with the various friends we had told 'See you at the Boat Show!'
We stayed with Kerrie and Lee (and Max and Trouble) who made us very welcome and comfortable, for which we are very grateful, and it was lovely to see everyone, Too soon it was time to fly back to Marmaris - we wished we could have stayed longer, but concern over the work being carried out on Scott-Free meant that we wanted to be away from her as little as possible.
Back in Marmaris life became a little more hectic as we commuted between apartment and boat, but we continued to join in the social life of the marina. Before leaving for the UK we had enjoyed Christmas and New Year rather less quietly than expected!
Seasonal Quiz night in the workers' canteen Christmas dinner with friends in a beachside restaurant
Christmas dinner Home-made mince pies - not bad for a first attempt on the boat
Our beloved Scott-Free on Christmas Day 2008 Chris on the beach on ChristmasDay -just as she always said!
New Year's Eve party at the marina restaurant. In Turkey, the men are the first on the dance floor!!
Belly dancer at New Year's Eve party New Year's Day boules competition
At the end of January we made a two-day trip inland to visit four ancient sites,which were all well worth seeing.
Aphrodites temple at Aphrodisias Stadium at Aphrodisius
Amphitheatre Wow, they must have had enormous winches...
Mid-February we took a trip to Istanbul for the Boat Show. The trip was organised by the marina and cost us only 60TL (£25) each for transport, Bosphorous cruise and Boat Show entrance. The coaches left at 6.30a.m. and arrived at the hotel in Istanbul at 8.30 p.m. A long journey, but with plenty of comfort breaks and with a good book to read and some Su doku to puzzle over, the time soon went. The next day we visited the Boat Show which had much more there than we were expecting, but of course was nowhere near as good as the LBS. We found a Lewmar dealer who gave us a good deal on a new electric winch,so that made the trip worthwhile as well as enjoyable.
After the Boat show we went on a cruise up the Bosphorous. We have a fondness for Istanbul as it was the first place we visited together almost 10 years ago and we have lovely memories. We couldn't remember the name of the hotel we stayed in all that time ago, so in the evening we went for a walk - we knew it wasn't far from where we were staying now - and sure enough we turned down a little side road and there it was - we both recognised it at once.
The next day was a free day, and as we had done all the tourist bit before, we decided just to wander around,do a bit of shopping in and around the Egyptian market and just soak it all up. It was a lovely day. Unfortunately, that night Chris was unwell with vomiting and diaorrhea and had a horrible journey home the next day, making the coach stop to be sick and dosing herself up with Imodium so that it wouldn't have to stop more often! It kept her in bed for two days when we got home and it was a week before she really felt well again. Oh well, at least it was at the end of the trip, not the beginning!
Cruising the Bosphorous - in our best marina jackets! Around the Egyptian Bazaar
Sweetie houses! A chocolate spoon to stir hot chocolate!
March has been spent getting the boat ready to go back into the water, moving out of the apartment and back onto the boat, and trying to sort out below decks and get everything back in its place. This is an ongoing task but getting there. The mast is due back in tomorrow and then we will set about getting her ready for sea by the end of the month.
Our plans for this year have changed in the light of two things: 1) we have signed up for the Eastern Mediterranean Yacht Rally 2010 and 2) we want to be here next winter so that any problems that may arise with the new deck can be put right under guarantee before leaving the area.
So Plan A is that we set off early May and go North up the West coast of Turkey, with the aim of reaching the Black Sea via the Dardanelles, the Sea of Marmara and the Bosphorous. Whether we will get that far will depend on the weather as the Meltemi, a strong Northerly wind, begins to blow in earnest in late May and battling against strong headwinds is okay once in a while but not something you want to do as a matter of habit. However,if we reach the Black Sea we plan to explore that a bit before turning around and letting the Meltemi blow us back down the Aegean. The Khalkidiki peninsula and Evia on the Greek coast look worth a visit. Then we have the Sporades, Cyclades and Dodecanese to choose from and we could take a diversion to the West and visit Athens. We will see. We plan to be back in Marmaris for next winter, and then to join the EMYR as it passes through Goçek next May.
So, that's us up to date - and looking forward to setting off again in the not too distant future. We will keep you posted...
---