A bent pole

Scott-Free's blog
Steve & Chris
Tue 28 Dec 2010 17:28
16:03.1N 40:45.01W
Tuesday 28th December 2010
Distance run in 24 hours: 157
Total distance run: 936
Distance left: 1110
With winds consistently between 20-25 knots, we made good progress over the last 24 hours. The sea was fairly calm and it was a comfortable ride. Until the change of watch at 5 a.m. that is.
The sky had become dark with clouds and rain showers were beginning. We put on the radar to keep an eye on the progress of the clouds but couldn't avoid them, and one or two came our way, bringing winds of up to 35 knots with them. We had reefed the headsails and main, and so these winds were more a nuisance than a problem.
The sky cleared and just as we were beginning to think it had all passed, without warning we had a gust of 40+ knots (not quite as strong as Skiathos Kerrie!), not sure which direction it came from, but it caught the yankee sail and that in turn pulled hard enough on the whisker pole to bend it at a jaunty angle! Several minutes of excitement ensued whilst we furled in the headsails and got the boat sailing under the reefed main, then we inspected the damage. Not good. The pole is US and would need to be taken down. The seas were still a bit excitable and more dark clouds were gathering, so we unfurled a bit of genoa, turned the boat onto a broad reach and waited for the weather to pass through.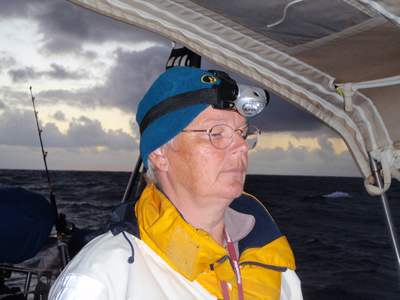 Dark clouds gathering Warming up with a bowl of porridge for breakfast
It was around 1400 by the time the skies had cleared and the sea calmed enough for us to venture onto the deck to sort things out. We lowered the pole and Steve took the hacksaw to it to remove the bent portion so that the rest could be replaced in its deck fitting. The pole had bent at the weakest point, where the extension piece comes out of the main pole. Having removed the bent portion, which we stowed below, we secured the rest to the deck and then set about moving the genoa pole across into the position it had vacated. We had discovered through pure laziness that the genoa will fill without a pole in sufficient wind, so decided to use its pole for the yankee which flies on the leeward side of the boat. We'll see if this works - if not we will have to re-think. We may find it difficult running downwind in light airs without both poles, but will have to see.
The bent pole Steve and hacksaw!
The head sails are now both up again and we're sailing along nicely.
---