A bottom scrub in Baie Maa

Scott-Free's blog
Steve & Chris
Sun 25 Oct 2015 22:39
22:12.72S 166:20.459E
Sunday 25th October 2015
Distance run: 10 nmiles
We slipped the lines before 0800 this morning and headed out of Port Moselle Bay, then turned north to run up the coast for about 8 nmiles to Baie Maa. When we arrived, there were half a dozen or so local boats there, with locals enjoying their Sunday afloat or on the beach. We edged forward into the shallow water and dropped the hook, then got out the hookah gear ready for Steve to go down and scrub the bottom. We had already cleaned the waterline yesterday afternoon in the marina, when the boat next door left and we had enough room to put the dinghy in the water and get around the hull to clean it. So today's job was to check the prop anode and change if necessary, and clean off the hull below the water.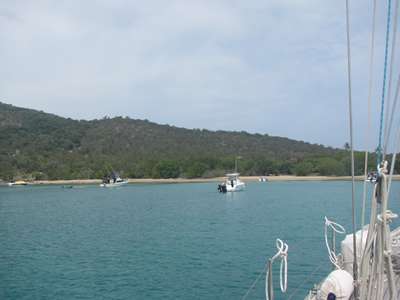 Several small motor boats were at anchor in Baie Maa. It is a popular place with the locals on Sundays.
Once kitted up, Steve went in and found the water not too cold. The prop anode was still intact and hardly worn, so did not need to be changed, so he went down with a scraper and scourer and began to clean the starboard side. My job was to keep an eye on the compressor and make sure that the airline ran smoothly down to Steve at the other end. The airline has a bladder which is a reservoir of compressed air which evens out the pressure and acts as a store of air. Should the compressor stop for any reason, he would have enough air to get safely back up to the surface, though today he's not going deep enough to worry about that.
The compressor sends air along the yellow hose. The bladder has a reservoir of compressed air.
Steve worked for about an hour, and then came up for a rest and a bite of lunch. Then he went back down to do the port side. Fortunately there was very little growth on the antifoul, just a few barnacles, and mostly it was just slime which wiped off reasonably easily. While Steve worked away below, I made the much-needed repair to the ensign.
Working on the starboard side of the hull. Going lower to clean the wings on the keel.
By mid-afternoon the hull was clean, the equipment away and Steve was having a well-deserved snooze after his exertions.
Worn out!
A job well done. Now the outside of the boat is ready for Australia.
---