Hobart walkabout

Scott-Free's blog
Steve & Chris
Sat 30 Jan 2016 22:13
Saturday 30th January 2016
Dressed for wet weather and armed with a map of the city, we set off this morning for a walk around the Salamanca market and Sullivan's Cove area. We took a meandering route into town, taking in the surroundings as we walked.
A storm drain in the middle of the street. The left lane of the road higher than the right lane.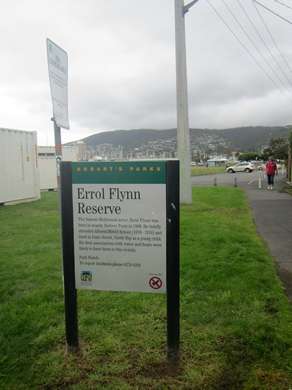 Really? Apparently he was born here in 1909, and probably learnt to swim and sail boats at this beach.
Next bit seems a little uphill... ...yep, it was!
No, not the year Steve was born – more of the sculpture trail on Clarke Avenue, commemorating the year the land was bought and building began.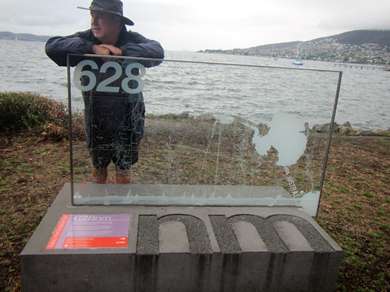 This sculpture marks the 628 nautical miles of the Sydney to Hobart yacht race, which finishes here. Pity we didn't see the end as well as the start! Local boats were out, and we watched the start of their race.
A busy quayside and yachts moored across Sullivan's Cove. Salamanca market along the front of Georgian wharf buildings.
The stone chips in this sculpture near the market represent the cuttings that flew from the chisels of convict chain gangs in the early days of the colony. They gouged out the cliffs here and built the wharf which was the business hub of Hobart in the mid-19th century.
Bronze sailing ships on the Tasman Fountain. Modern street art – a power cable/telecom box.
Mawson's Huts Replica Museum – a reconstruction of the huts built in 1911 in Cape Denison, Antarctica by the men of the Australian Antarctic Expedition, which left from Hobart. Fascinating stories and information. The map shows the comparative sizes of the Antarctic, Australia and New Zealand.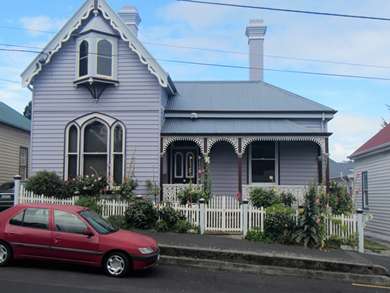 Houses around Battery Point/Sandy Bay.
Most, but not all, from the upper end of the size and wealth scale. Terraced houses.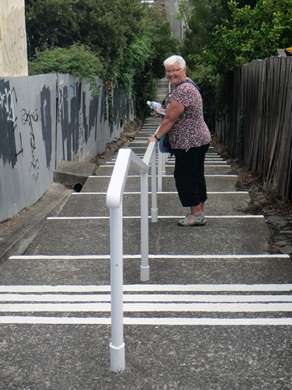 We were amused by the sign for 'Nanny Goat Lane'...but not so much by the actual walking of it! At least it was down...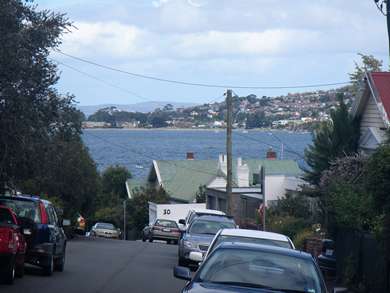 Everywhere we walked was either steeply up, or steeply down – a reminder of Hobart's position at the foot of Mount Wellington.
The weather was changeable but dry for much of the day, and we managed to find places to shelter from the showers when they came. On the way back, though, the heavens opened and we were very glad to get back to our warm and dry unit. The verdict on Hobart? Lovely.
---