Labuan Bajo

Scott-Free's blog
Steve & Chris
Wed 6 Sep 2017 21:19
Wednesday 6th September 2017
This turned out to be a great stop. The anchorage was enormous and protected, and off a beach resort with a manager that couldn't be more helpful (thanks Huberth), a beach bar and a swimming pool. All very different from our stops so far, and very welcome. On our first night there was a barbecue organised by the resort.
Beer bottle lanterns and bonfire ready for later. The sun going down over the anchorage as we enjoy sundowners on the beach.
Later the bonfire was lit and locals danced around it before inviting us to join in.
Labuan Bajo town itself was a taxi ride away, and it was very hot, dusty and busy. It is the centre of the many dive operations in the area that take boats into the nearby Komodo National Park, an area known for its spectacular diving. As Steve was keen to dive, we booked ourselves onto a day trip that would give him three dives in three different spots. They do not offer snorkelling, but are happy for partners of divers to go along and snorkel independently at the dive sites if they choose. At the first site I decided very definitely against getting into the water, and spent a very happy day lounging on the top deck while the divers dived, and joining them for lunch and breaks in between. Steve had a very successful day's diving, and even saw a dugong, something which even the dive masters had not yet done in these waters. There was much shouting across boats and celebrating among the boat crews!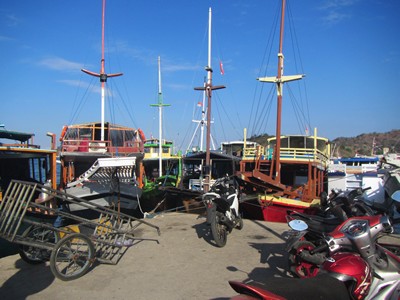 The dock was absolutely choc-a-bloc with dive boats. Equipment and food going aboard our boat for the day.
The heavy wooden boat picked its way out of the harbour... and pointed its high prow towards the many islands and dive spots.
Beautiful views over the landscape. Dive boats gather at one of the many dive spots in the Komodo National Park.
The divemaster holds the signal that they need picking up at the end of their dive. Steve came out of the water a very happy chappy.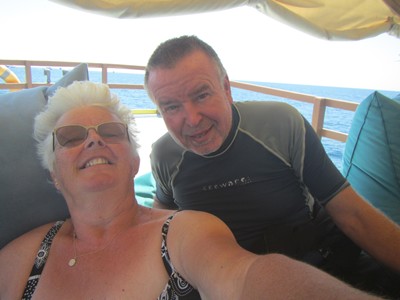 I spent a very lazy day relaxing on the upper deck. Steve joined me between dives.
Steve had some great dives with Ody.
Looking out over the harbour from Labuan Bajo. The anchorage was
a mile or so along the coast to the left of the picture, away from the
hustle and bustle of the port.
Back at the resort, time for a cool down in the pool.
Although this was a great stop, we were keen to go to Rinca Island in the National Park in the hope of seeing a Komodo Dragon – a very large lizard. The plan was to leave here in time to make it to Rinca Island after the last tourist boat had left, so that we would have plenty of room to anchor overnight and then visit the island early the next day before the tourist boats arrived again.
---