Arrival in Australia!

Scott-Free's blog
Steve & Chris
Sat 7 Nov 2015 19:12
30:18.381S 153:08.657E
Saturday 7th November 2015
Day's run: 116 nmiles
Total distance run: 887 nmiles
The horrid weather reached its crescendo at around 1900 last night, with winds of 30 knots, big, rough seas, and just for added entertainment, electrical storms. Very little sleep was to be had and items that had resided happily on the same shelf or in the same locker for years, suddenly decided they would like a change and issued themselves forth all over the place. We put some of the electronics in the oven to safeguard them from lightening strike, and hunkered down.
Fortunately it did not last too long, and around 0200, the wind began to abate and then was soon down to 12 knots or so. With it, the seas also began to calm down. Very soon we had to put the engine on as the wind dropped further, and so we motored the last 30nmiles or so into Coffs Harbour in the early morning light.
The electrical storms continued until daylight, and we decided it was Australia celebrating our arrival. Thanks guys!
As we approached the coast, I ventured out onto the side deck and raised the Australian courtesy flag and the Quarantine flag. We passed through the gap between the breakwater and Muttonbird Island just before 0700 and dropped our anchor off the beach in the outer harbour. Then we went to bed.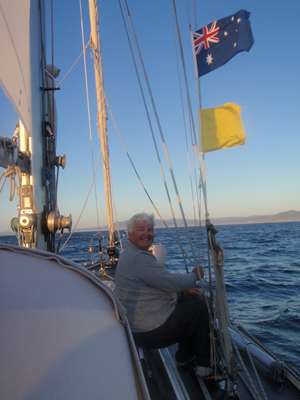 Approaching the New South Wales coast in the early morning. Raising the Australian and Quarantine flags.
Passing the breakwater at Coffs Harbour.
---