Christmas Eve supper in Chinatown

Scott-Free's blog
Steve & Chris
Thu 24 Dec 2015 23:41
Thursday 24th December 2015
By the time we left the Botanic Gardens, our picnic lunch seemed a long time ago, and we decided to continue our wander down to Chinatown for an early supper. This took us past the Art Gallery of NSW, which we had a brief peek inside, Hyde Park and The Anzac Memorial.
The Art Gallery of New South Wales... has an impressive marble entrance hall.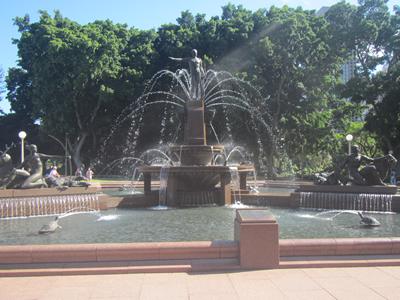 Statue of Rabbie Burns in Art Gallery Road. The Archibald Fountain at the north end of Hyde Park.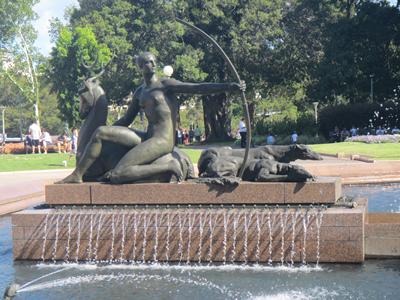 Donated by J F Archibald, an Australian Francophile, and intended to commemorate the association between Australia and France in WW1.
Bullet sculpture in Hyde Park – steel and marble bullets and shells are
a tribute to indigenous servicemen in WW2.
The ANZAC Memorial at the south end of Hyde Park.
The ANZAC Memorial Pool of Reflection – in pretty much the same state as we saw the Lincoln Memorial Reflecting Pool in Washington!
The former Mark Foy's Department Store.
The Golden Watermouth sculpture on the corner of Hay and Sussex Street in Haymarket, the symbolic entry point to Chinatown.
It is the trunk of a yellow-box eucalyptus tree partly covered in 23-carat gold leaf.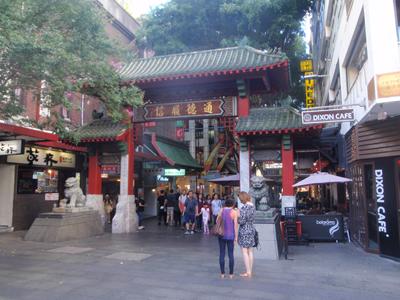 The Dixon street Chinatown archway.
We wandered around taking in the sights and sounds of Chinatown before enjoying a supper of Chinese fare, before wending our weary way home. Such a special way to spend Christmas Eve.
The Christmas tree outside Customs House at Circular Quay. It was just after 8 p.m. and it was still sunny and warm. Were we missing the cold, dark evenings? What do you think?
Happy Christmas everyone!
---