Marmaris in Turkey

Scott-Free's blog
Steve & Chris
Sat 27 Sep 2008 19:21
We left Khalki reluctantly - we could happily have stayed longer but the weather pattern showed that today would be the best window for a while. We had a fair wind for about half of the passage, and then it died away, so we motored the rest. When it did reappear, it was on the nose (just for a change!) so we ignored it and continued to donk. Sometimes you just want to get there!
We were very soon in sight of the Turkish coast, and as we rounded the headland into the approach to Marmaris it all suddenly became familiar. We had sailed here three or four years ago on a charter holiday and well remember sailing into Marmaris between the two islands. It felt SO good to be back again - this time with our own boat.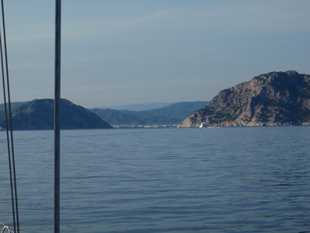 We soon had the boat tucked up in Marmaris Yat Marine which is where we will spend the winter on her. It will come as no surprise to anyone that we then broke open a bottle of Cava (all the champagne having already been consumed en route!) and celebrated the successful completion of three and a half thousand miles sailing from Brighton on our lovely old girl who has looked after us so well every inch of the way.
There is still some sailing weather left this season though...
---