Time out in Hope Island

Scott-Free's blog
Steve & Chris
Tue 28 Jun 2016 14:37
Tuesday 28th June 2016
Still here! In fact, we decided a couple of days after arriving to ask if it would be possible to stay for a few months rather than a few days, and we were lucky to find they could offer us a longer-term berth, and at a very reasonable price. The marina is tucked away up a winding river and surrounded on all sides by houses and a shopping village. Coles is literally five minutes' walk along the boardwalk, alongside a butcher, baker (no candlestick maker!), chemist, cafes, bars, a variety of small shops, a dentist and medical centre. Only two things missing – a fish and chip shop and an ice-cream parlour! Oh, well, we'll just have to slum it then.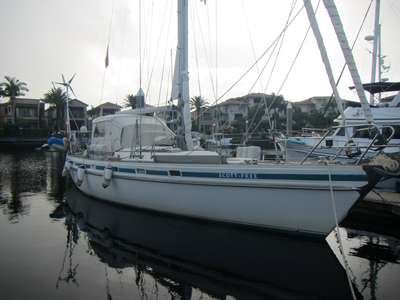 Scott-Free in her new berth for the next few months. One of the locals came to check us out.
Looking between the pontoons towards the boat entrance to the marina, as we walk to the gate out to the boardwalk.
Apartment blocks line this side of the marina. Skipper posing by the steps up to the Boardwalk.
Golf carts parked outside the waterfront entrance to the shopping village.
It is mainly a residential area here, built around the river and canals and as everyone drives either a car or a golf cart, it's a fair walk to anywhere else. They clearly don't expect many people to use shanks's pony, as there are few pavements alongside the roads. There are, however, bus stops right outside the entrance to the marina with buses every half an hour or so either to Southport or Helensvale, where there are rail links to Brisbane, which means that, armed with our 'Go' cards, we can get to pretty much anywhere we want to go.
The roadside entrance to the residential area, marina and shopping village, with an immaculately-kept roundabout. Reminded us of Denarau, Fiji.
Another well-tended roundabout outside the marina entrance, with well-marked paths for golf carts and pedestrians!
Another upside to being in this marina is its proximity to an excellent boatyard, just a dinghy ride around the corner. It has been recommended to us by various people, so we put the dinghy in the water and went to take a look. It is a boatyard on a grand scale, with all the facilities and services one might need on site, and we were impressed. We made enquiries about costs for having the boat hauled when she is due for new antifoul. The actual lift in and out is reasonable, but daily rates are expensive. They clearly don't want anyone sitting around on the hard for very long! They do have specials, though, which keep the cost down, such as 5 days for the cost of 3 if you haul on Wed, Thu or Fri, so we will definitely be thinking of hauling there when the time comes. We took the camera to get some shots of the river and the boatyard, but unfortunately the battery was playing up again. We always carry the spare – except when we don't – and this was one of those times.
So we have settled in quite nicely here in this quiet spot. We met the Ocean Cruising Club Port Officer Nick Halsey and wife Susie when we went for coffee on Darramy the morning after we arrived, and they invited us to an impromptu OCC supper the following evening. They have a very nice house with private jetty just across the water from our berth, and we spent a very pleasant evening there with them and Brian and Sue.
Supper at OCC PO Nick & Susie's house, with Brian & Sue from Darramy. Formal Ocean Cruising Club pose for the Newsletter.
Steve got the bike out and cycled to the nearest 7-11 to buy us 'Go' cards for the buses, and we have used them several times. We have been into Southport, the nearest big town, a couple of times. It's about a 30-minute ride away, and a fairly typical town with huge shopping mall. It also has a very nice RSL (Returned and Services League) Club there, which we visited on both occasions for coffee or lunch. About halfway to Southport is Runaway Bay – another residential area with a shopping centre – and we stopped there one day to have a mosey around. They also have an RSL affiliated club there, and one evening we took advantage of their courtesy bus service which picked us up from the marina and dropped us back there later. We had a pleasant evening, with drinks and a reasonably priced meal, though the club premises themselves were not as good as the one in Southport.
Apart from our local explorations and the odd bit of socialising, we have been generally taking it easy whilst catching up on maintenance and non-urgent boat jobs and doing some sorting and reorganising of stowage. Very shortly we will begin to think about organising ourselves for our trip home, but in the meantime we are looking forward to our trip to Mackay – by plane, not boat! – to see our friends Rod and Mary, whose plans have changed so many times in the past couple of months, but who are, for the time being, staying in the same place long enough for us to pin them down!
---