Deep Bay

Scott-Free's blog
Steve & Chris
Wed 30 Mar 2011 21:06
Wednesday 30th March 2011
No mad rush to leave, so we had a leisurely breakfast and then started to pick our way back through the reefs. It was good sailing weather and we enjoyed a pleasant sail back round past Dickenson Bay, past St John's, the main town, and into Deep Bay. In the middle of this bay lies the wreck of the Andes, which in 1905 was refused entry to St John's because its cargo of pitch was smoking and regarded as hazardous. The crew anchored her in Deep Bay instead and when they opened the hatches to deal with the problem, the air caused the pitch to burst into flames and the vessel sank. The Andes sits upright on the bottom,encrusted in sponges and coral and with one of her broken masts just visible above the surface of the water, making her easy to avoid.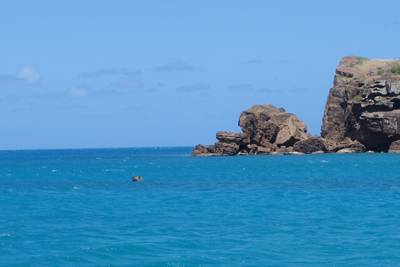 The mast of the Andes breaking the surface to left of middle.
We had several visits from a turtle, and Steve had every intention of snorkelling on the wreck. However, his rib driver fell asleep after lunch and slept the afternoon away, so he will do it tomorrow.
---