Portsmouth, Dominica

Scott-Free's blog
Steve & Chris
Mon 14 Feb 2011 01:49
15:34.84N 61:27.81W

Monday 14th February 2011

Distance run: 55 nautical miles

An early start today, so the anchor was up and we were motoring out of the
bay shortly after 0600. The sky was pink and the sea was flat calm, but we
are getting used to the way the wind behaves around the tops of the islands
so we set a reefed main and jib and motor-sailed out from the lee of the
land. Before long the engine went off and we were putting another reef in
the main and furling in more of the jib. The seas were soon typically
Atlantic and with the wind close on the nose we sailed on a lumpy fine reach
for most of the twenty five miles or so to the southern end of Dominica.
About ten miles off we had a series of squalls with winds gusting 28 knots,
rain and lots of waves that wanted to join us in the cockpit. So we were
very pleased to reach Scott's Head and the lee of the island.
Scott's Head on the south west tip of Dominica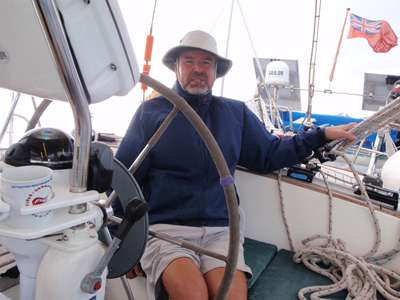 Steve needed his waterproof - so much for caribbean sailing!
A tiny bit of spray fails in its attempt to spoil my photography. Good one eh?
The first surprise, after the wind died to nothing, was that it picked up
again from the North West! This must be local wind effects because the wind
just doesn't come from the West out here - does it?! Soon it was back in
the East and gusting long and hard off the land, reminding us very much of
sailing down the Evia Channel in the summer of 2009, when we would watch the
water ahead to gauge when the next gust would come.

The twenty miles or so along the leeward side of Dominica was alternately no
wind then gusts of up to 29 knots, and the autopilot is slow to respond in
this situation (well, on its current setting it is) so we handsteered most
of the way. As we approached Prince Rupert Bay the wind died again, and
then for no apparent reason began to blow onshore. Having tacked the sails,
it then swung right round the compass, settling back in the East once more,
and now blowing 18-20knots, with strong gusts every few minutes.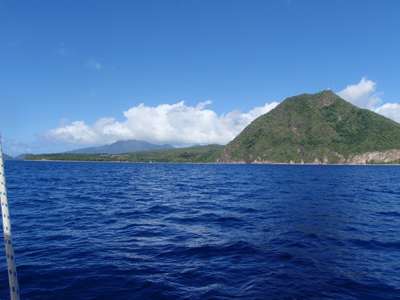 Clear skies and flat sea as we approach Prince Rupert's Bay - do not be fooled!
This continued right into the bay and only lessened slightly as we approached the
anchorage. We felt we had to work hard every inch of the passage today, and
were extremely glad to drop the anchor in Prince Rupert Bay, just off the
town of Portsmouth.


---