Girne,Cyprus

Scott-Free's blog
Steve & Chris
Fri 28 May 2010 07:59
The overnight passage to Girne was boring, with the engine on all the way, but uneventful. We arrived in Girne around lunchtime on Tuesday. Mooring arrangements were interesting with a row of boats stern to the quay and another row bows to in between their bows. Taking up the anchors when we leave should prove to be even more interesting!
That evening we attended a formal reception at the Castle.We were expecting the President of the Turkish Republic of Northern Cyprus,but it turned out he was otherwise engaged so we managed without him. The caterers had also been expecting him,though, so the food was very good! We had the usual speeches and flag ceremony, with one of the President's underlings reading out his speech. It was a pleasant evening and we took a stroll down to the old harbour before getting a taxi back to the boat.
The flag ceremony at the Castle
On Wednesday and Thursday we took the organised tours. On Wednesday we visited St Hilarion's castle,which was quite a climb but worth it.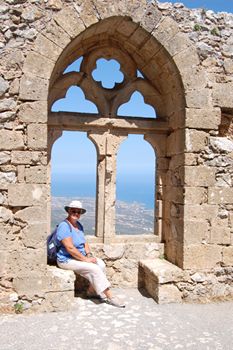 From this window inSt Hilarion's castle a golden-haired queen is said to have thrown herself!
Lunch was in Bellapais Abbey and then we went into the captial city of Cyprus,Nicosia. This city is of course still divided by the 'green line', but it is possible now to pass through from one side to the other by showing passports. We visited a mosque which had been converted from a church,and it was very strange to see the gothic arches inside a mosque!
On Thursday we went to Famagusta on the East coast, where we saw an even more interesting church cum mosque.
A church with a minaret in Famagusta!
We visited the ancient site of Salamis, where I tried out the ancient toilet facilities...
...with lunch near the beach and a swimming opportunity which most of us declined due to a very strong onshore wind!
That evening we attended the pirate party at a local hotel, after parading through the old harbour in our costumes.
Four pirates and Captain Morgan (the parrot!)
Dinner was excellent and we were entertained by a belly dancer and the floor opened for dancing. A good time was had by all, especially Captain Morgan who had so much to drink he was slowly slipping under the table...
"Squawk..Pieces of eight... hic!"
---