Pisco sours and Bloody Mary's

Scott-Free's blog
Steve & Chris
Tue 27 Aug 2013 21:41
Tuesday 27th August 2013
Yesterday evening we hosted a 'Pisco Sour' Happy Hour on board S-F. Whilst ferreting around in the drinks locker the other day, Steve came across the bottle of Pisco Sour we brought back from Peru, so we invited Rod & Mary and Eric and Dee over for a tasting. Steve went over to the yacht club where they kindly gave him some ice cubes foc, and he spent a few happy hours mixing and shaking. The Pisco Sours were declared a success and our guests wended their way home pleasantly mellowed.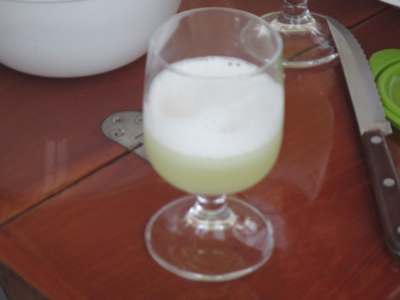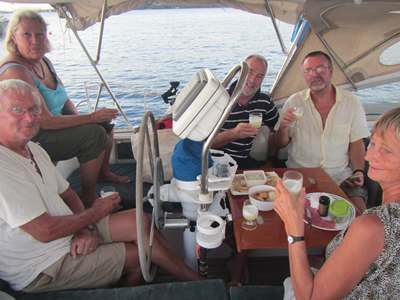 Pisco sour a la Scott-Free... ...was declared a success by all the assembled. Cheers!
This morning we took our bike ashore and hired another from the yacht club. Fortunately they had one with proper brakes, so Steve took ours and I had one with big wheels (less pedalling according to Steve, though it didn't seem like it to me!) The plan was to ride to 'Bloody Mary's', a restaurant on the south-west corner of the island, have a leisurely lunch and ride back again. Riding the bike was no problem – as easy as riding a bike really – but my poor old legs and bum were beginning to complain by the time we got to town, and that was only a third of the way there! Anyway, with a few stops for a drink of water and to admire the view, we made it to the restaurant. The boards outside the restaurant list the rich and famous who have eaten here. Wonder if they'll add our names....
Still standing – just! Sand floors and HARD stools inside 'Bloody Mary's'. Cheers!
The peaks of Bora Bora from the south west.
Lunch was very pleasant and quite reasonably priced for French Polynesia, and the ride back was not as hard as I expected, especially as we stopped in town to enjoy some local ice cream.
When we got back to the boat, an email was waiting for us with a copy of the Bill of Lading for the batteries, which will be needed in order to collect them from the Hawaiki Nui supply ship when she arrives tomorrow morning.
---