Welcome ceremony, cave and technical meeting

Scott-Free's blog
Steve & Chris
Tue 25 Jul 2017 21:01
Tuesday 25th July 2017
This morning we attended a welcome ceremony. There were many people in uniforms, locals and schoolchildren who treated us to dancing and singing. There were a couple of long speeches in Indonesian, interpreted for us by Buddhi, Raymond's colleague. It still didn't make much sense, to be honest, but at least they tried. And Buddhi's English is a heck of a lot better than our Indonesian.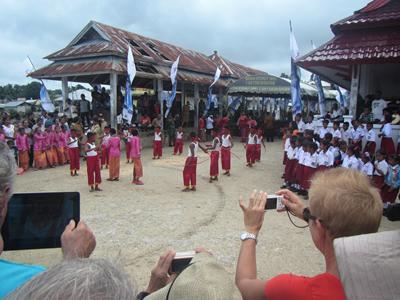 Schoolchildren danced and sang for us. Lots of officials and locals turned up for the welcome ceremony.
The guy in yellow kindly called upon the ancestors to protect us. The officials seemed more interested in their phones and posing.
The welcome speeches and entertainment over, we were each given a patterned box with a snack, drink and sweets inside. What a nice thought. We were now free until 3.30, and decided to walk to a cave we had heard of, about half an hour away. As we passed through the next village, we were joined by a group of young children, who stayed with us the whole way. We blame Sue for this, as she seemed to have adopted the role of Pied Piper!
Sue playing with the local children... who were still with us as we arrived at the caves.
The children entertained us with their antics. After our long, hot walk, we were sorry we hadn't brought our swimmers.
After the cool of the cave, we were finding the walk back in the hot sunshine quite tiring, when a smart car passed by and stopped. We were very surprised to see any vehicles at all on this road, and even more surprised when we were invited by the driver to get in. We accepted gratefully, and the kind chap drove us all the way to the jetty in Debut. We could not communicate much because of our language differences, but we could at least manage "terima kassih", Indonesian for "Thank you".
Later in the day we were taken by a coach to Lingurr to the Hotel Grand Vilia for our "technical meeting". Coffee/tea and cake was available on arrival, chairs were padded and the room was air-conditioned, a definite improvement on this morning's proceedings. The technical meeting was preceded by more speeches from more officials, then Raymond gave us a Power Point presentation of the 17 stops on the rally and information about refuelling, visa renewing etc. Unfortunately, the hard copies of the presentation which he had ordered had not been printed, and following his heavily accented English proved quite difficult, so we were pretty much none the wiser by the end. Someone asked if we could have a soft copy, and he suggested we take a memory stick to the white building tomorrow and he will copy it for us. Okay then, that's sorted.
Death by Power Point at the "technical meeting". Steve & Bob modelling the freebie rally hats.
The hats fitted Sue and I somewhat better than they did the men.
After a talk from the organiser of the Sail Malaysia Rally, and having vastly over-run on timings, we now queued up for a cold dinner, which was nonetheless very tasty. We were then lucky enough to get on the first coach heading back to Debut, and dropped Bob & Sue back at Mawari at 9 p.m. It had been a long day!
---