Wineglass Bay

Scott-Free's blog
Steve & Chris
Tue 2 Feb 2016 15:17
Tuesday 2nd February 2016
The camper van bed was very comfortable and we both slept well. After breakfast we went for a stroll around the campground and the edge of the lagoon. It was such a lovely spot we wished we could stay longer. In the middle of the track we came across a baby Bennett's wallaby feeding from its mother, and it was lovely to hear birds singing.
Breakfast time.
Wake-up call.
We left the campground to make our way to the Visitors' Centre at the entrance to the Freycinet National Park. There we bought a 60-day Pass which will allow us and the van into all the National Parks in Tasmania. After browsing the exhibits about the flora and fauna in the park, and picking up a walks leaflet, we drove to the Wineglass Bay car park and set off up the hill to the lookout. It wasn't a long walk but it was quite steep in places, and so we took plenty of opportunities to stop and enjoy the views.
The guide shows the walk from the car park on the north of the peninsula up between Mounts Mayson & Amos.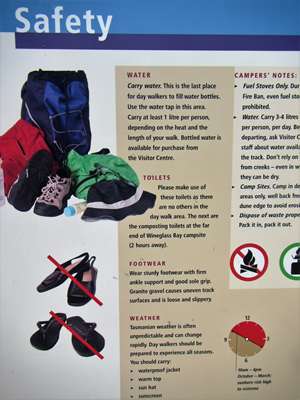 Choose your walk! Good information boards... with good advice.
Pink granite rocks. Admiring the view on the way up.
Not enough headroom under this boulder. This really shows the pink of the rocks.
Thirsty work. Worth it for the wonderful views.
Time for a rest stop on this 'Saddle Seat" designed by students from a local art college.
More pink granite and wonderful views. And there it is – Wineglass Bay. Beautiful.
And here we are, at the lookout, with a clear blue sky and the peaks of the Freycinet Peninsula behind us.
And one with a bit of pink granite!
We settled ourselves on a rock ledge at the lookout. We were joined by a friendly wallaby, and despite the signs asking people not to feed them, this chap decided he knew better.
The black paws, ears and nose identify this chap as a Red-necked or Bennett's wallaby, common in Tasmania.
Having drunk in as much of the view as we could, we started our way back down. The signs told us in no uncertain terms that we had to go down a different route, and remembering some of the narrow parts of the path up, this seemed a good idea. Plus, of course, we got some more fantastic views.
Not this way then! A nice shady pathway.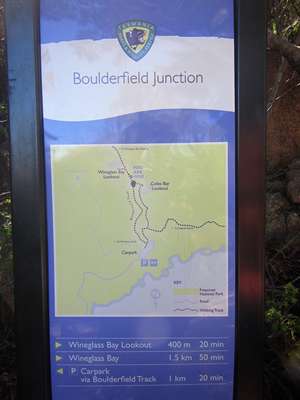 By Boulderfield Junction. We decided not to walk down into Wineglass Bay itself, the view from above was plenty!
More lovely views on the way down.
Some sort of worm in this eucalyptus tree? Such a beautiful clear blue sky.
---