Blue Lagoon

Scott-Free's blog
Steve & Chris
Fri 21 Aug 2015 22:54
16:56.557S 177:22.073E
Friday 21st August 2015
Distance run: 28 nmiles
As soon as the sun was high enough in the sky to show the reefs, we lifted the anchor and motored out of Likuliku Bay. It had been a rolly night with no wind to hold us into the swell, so we looked forward to a flatter sea in the Blue Lagoon. Again we motored into a light headwind, wending our way between reefs, always keeping a watchful eye on the water ahead for breaking waves or change of colour, at the forward-looking sonar for depth, and at the Google Earth images on the iPad.
All went well, and we were at the last waypoint before rounding the top of Matacawa Levu Island when the forward-looking depth sounder suddenly jumped from 18 metres to 7, and then just as rapidly to 2.5. Steve threw the boat into reverse and gunned it backwards, billows of black smoke belching out of the exhaust, and we managed to back off without touching anything. We got ourselves back into deeper water, and once back on course we had another look at the Google Earth image. When viewed from the cockpit, with the light on the screen, it was possible to see a shaded area, which would usually denote shallower water. When viewed from down below, however, without the sunlight on the screen, it was very clearly an area of reef. Whoops! Or as our friend Rachel would say, "Whoopsy-bollocks!"
No harm was done, but this clearly underlined the importance of mark one eyeball. In the absence of breaking waves or colour change over the reef, however, that wasn't any help either. The sun needs to be in the correct position relative to the boat i.e. above or behind it, in order to show up the colours. The water over the reef was not breaking and we could not see any colour difference on the water until we were actually backing off it. A reminder of the dangers of sailing in reef-strewn waters.
Counting our blessings, we headed into the gap between the islands and were greeted by the most beautiful blue water and white sand beaches of the Blue lagoon. Sheer Tenacity and State of Mind were already here, and we chose a spot between them, just off the beach, and were soon anchored. Beez slotted into a spot off our starboard beam and there we were, all in a row, the gang's all here. Excitement forgotten, it was definitely time for a dip before beer and a catch up!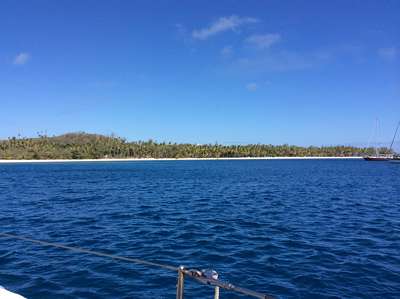 The stunning blues of the Blue Lagoon...
---