Repairs done

Scott-Free's blog
Steve & Chris
Mon 5 Jun 2017 20:21
Monday 5th June 2017
So the expected few days in Abell Point Marina turned into a week, because of the repairs to the thrust bearing. The first attempt to fix it, involving a simple replacement of the oil seals which had been replaced in Boatworks, but which were suspected to have failed, unsurprisingly did not sort out the leak. The second attempt involved further investigation which eventually uncovered the fact that the bearings inside the casing had been reassembled incorrectly by the engineers at Watson Marine. It was put right and reassembled a second time and the engine was run for an hour with no sign of a leak. Fingers crossed it is all sorted. We will be speaking to Watson Marine about the AUD $1,330 it cost us to have their fault corrected.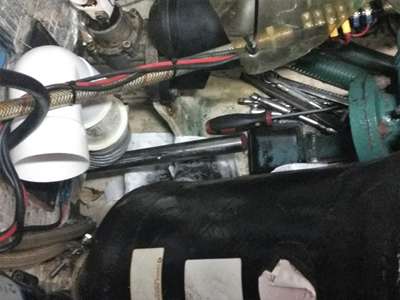 The prop shaft disconnected from the gear box and the thrust bearing removed.
The shorefront boardwalk was closed for repair after cyclone Debbie, so we walked into town via the road to take a look around. Airlie Beach is a colourful little town, full of backpacker hostels and nightclubs. We enjoyed a walk around and stopped for a beer (Steve) and ice-cream (me).
View over Abell Point Marina from the road into town. Trees broken by Debbie had to be cut down.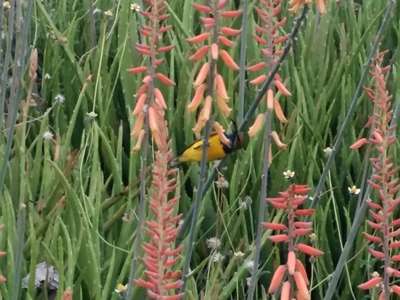 An olive-backed Sunbird feeding from the flowers beside the road. A Helmeted Friarbird enjoys the same flowers.
We made use of the marina's courtesy cars to get to the supermarkets to do some re-provisioning and to get to the out of town shopping parks for Bunnings, Big W etc. They were actually utes not cars, so plenty of space in them for the shopping!
One black, one grey, one white – we had a go in all of them! We were amused to be on the OAP pontoon. Very appropriate!
It was good to take a break from the overnight sails, but time to move on. Tomorrow we set off for an overnight sail to Horseshoe Bay on Magnetic Island.
---