Khalkidiki - Sithonia - Ormos Sykias

Scott-Free's blog
Steve & Chris
Mon 29 Jun 2009 12:50
We left Limnos at 0700 and headed West North West towards the second finger of the Khalkidiki peninsula, Sithonia. Mount Athos, regarded as a Holy mountain by the Greek Orthodox church, remained shrouded in cloud for much of the journey.
We heard rumbles of thunder along the way, and when we arrived in our destination bay, we found the water a sludgy brown colour and full of twigs, leaves and other debris. There was also a long sandy beach which was immaculate - but empty. We realised they must have had a thunderstorm here just before we arrived, and the debris had been washed out from the river that lets into the bay, and the people had returned to the shelter of the many caravans that lined the bay just back from the beach.
It could have been a pretty anchorage if it were not for the caravan site, but the view of Mount Athos was stunning!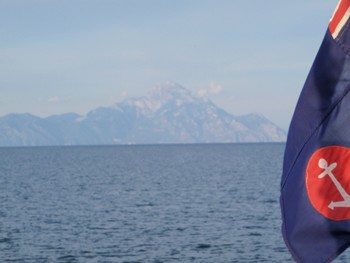 from the anchorage
---