Choccie biccies

Scott-Free's blog
Steve & Chris
Sun 12 May 2013 23:06
06:45.929S 116:40.469W
Sunday 12th May 2013
Distance run so far: 1448
Distance run Day 11: 144
Total distance run: 1592
Last night was the most beautiful clear, starry night I have ever seen. Millions of stars in a universe so enormous it is outside of my capability to imagine. And to top it off, there was a beautiful new crescent moon which just about took my breath away. Enough to make a mature (!) woman with almost 60 years on this planet stand with mouth open wide enough for her chin to touch the deck. These are the precious moments I will treasure in my memory long after this trip is done.
On a more down to earth subject, the wind and seas have moderated and sailing has become pleasant again. The clear night gave way to a cloudless, sunny day. On board all is as usual as we are well established in a routine now. Steve has just taken a turn of the deck to check that all is well, that nothing is coming undone or chafing, and to eject any squid or flying fish that have taken up residence in the night. It's surprising how quickly they kick up a stink if left there.
Part of our routine is mid-morning coffee and biscuits, and today I was elated to find in the back of the locker a packet of McVitie's Digestives! Not very exciting to you, maybe, but they are not that easy to buy out here (and why, therefore, they were tucked in the back of the locker!) As the half-way mark of the trip was a cause for celebration we decided to treat ourselves, but as always, were not quite satisfied with our good fortune. Chocolate digestives would have been even better, and so, ever resourceful, we decided we would improvise. A bite of biscuit followed by a square of Nestle milk chocolate - ta-da! - a chocolate digestive. Yummy! We sailing types are easily pleased.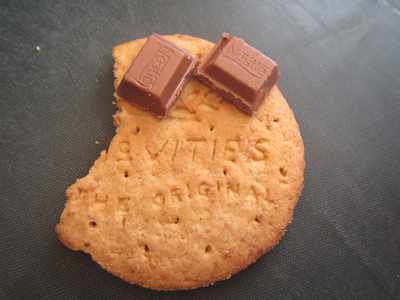 The improvised chocolate digestive biscuit..... ...as demonstrated by Steve!
---